Fumus is one of the four mages guarding Nex at the Ancient Prison located in the God Wars Dungeon. Each of these mages has mastered one of the elements of the ancient spellbook, with Fumus being the master of smoke. Fumus' attacks have a chance to poison players, similar to Nex's smoke attacks during the first phase, causing about 250-350 poison damage until it disappears.
Universal drops
Edit
Universal drops are dropped by nearly every monster outside of Daemonheim.
These drops are dropped alongside main drops.
| | Item | Quantity | Rarity | GE price |
| --- | --- | --- | --- | --- |
| | Key token | 1 | Rare | Not sold |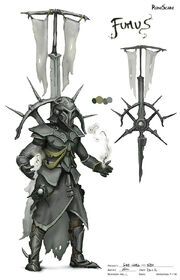 As with the name of all these mages, Fumus's name is derived from a Latin word fumus, meaning 'smoke'.
Like the other mages of Nex, Fumus' armour looks similar to that of the Virtus armour. The only major difference is the colour.
Prior to the God Wars Dungeon graphical update, Fumus wore Ancient ceremonial robes that had a somewhat grey tint on them.
Fumus, along with Umbra, Cruor, and Glacies, has a damage cap of 1300.
Like Nex during the Smoke phase, Fumus can cause poison to players he can attack. However, following the Evolution of Combat, Smoke spells lower a player's accuracy rather than causing poison. This may be an oversight by Jagex.
Players with an aggressive familiar can have them attack Fumus (or the other mages), but until Nex calls their name, they will not suffer any damage.
Ad blocker interference detected!
Wikia is a free-to-use site that makes money from advertising. We have a modified experience for viewers using ad blockers

Wikia is not accessible if you've made further modifications. Remove the custom ad blocker rule(s) and the page will load as expected.