This article is about the Summoning familiar. For the gnome food, see
Fruit batta
.
Fruit bat
Level
69
Duration (

min

)
45
Points cost
8
Race
Bat
Abilities

Light enhancer
Fly - gathers fruit in Karamja
Forager - fruit and seeds

Special moves
Fruitfall
Combat level
Non-Combatant
Examine text
Fruity and bat-shaped. A winning combination!
[view] • [talk]
A Fruit bat is a familiar that a player may summon with the Summoning skill. Its inventory has 30 slots, and it can forage up to 30 pieces of fruit before withdrawal is required.
Fruit bat pouch
Edit
A Fruit bat pouch requires 69 Summoning to infuse and is used to summon a Fruit bat. It is made by using a Summoning pouch on a Summoning obelisk with 130 spirit shards, a Green charm and a Banana in the player's inventory. It gives 121.2 Summoning experience when made and 1.4 experience when used. Using this pouch on a Summoning obelisk will create 10 Fruitfall scrolls.
Fruit bat pouch
Shards
Cost/XP
Charm
Tertiary
130 ( 3,250)
29.2
coins
Green
Banana
Create XP
Use XP
Low alch
Hi alch
GE price
121.2
1.4
1,469
coins
2,204
coins
2,271
coins (info)
GE Database
Cost to make
Bogrog shard return
Shard return level
Look up price
3,538
coins
91 ( 

2,275

)
73
Examine text
I can summon a fruit bat familiar with this.
[view] • [talk]
Fruitfall scroll
Edit
The Fruitfall scroll enables the use of the Fruitfall ability for a Fruit bat familiar. The scroll is made by using a Fruit bat pouch on a Summoning obelisk. 10 scrolls are created from one pouch.
Fruitfall
Edit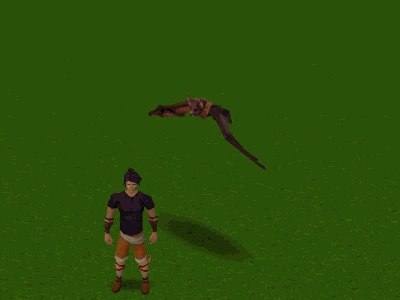 Fruitfall is the Fruit bat's special move. It sends the player's bat in search of fruit. The bat can get up to eight fruit and drop them on the ground around the player. However, the average number of fruit is two; getting five or more fruit is very rare. There are also times when the bat fails to retrieve any fruit at all. The difference between this ability and the fly option is that the ability can be used anywhere, except inside a building and in caves/dungeons (although it does work in the God Wars Dungeon and is often used there to help heal players after a fight). Additionally, it provides more valuable fruits than the Fly option, such as Papayas, Watermelons, bananas, etc. Papaya fruit, which heals up to 400 life points, is the most common fruit provided with this special move and is included nearly every time the special move is used. However, lemons, limes, bananas, and oranges are also frequently generated.
One pouch test using fruitfall scrolls and fly when no energy left yields 480,000 picking up all but limes lemons and pineapples, also no coconuts were dropped. Further testing is needed.
This special ability is often used as a method of making money for players with the sufficient summoning level. This is so because the Papaya fruit and Coconuts sell for a substantial amount each on the Grand Exchange. The most efficient way to make money with the fruitfall scroll is to use it whilst standing next to a high level fruit tree (i.e. Palm tree, Papaya tree), and collect the fruit from the tree in conjunction with collecting fruit from the floor. Along with the extra fruit, the player will also have the ability to note all fruit acquired by using it on the nearby Tool leprachaun. This eliminates the need to bank, thus saving time and requiring fewer clicks.
Since the scroll is stackable and produces food, this familiar's special ability can potentially provide large amounts of healing in a single inventory slot. However, unlike other familiars with healing abilities, it drops the food on the ground next to the player, and some of it requires a knife and multiple free inventory spaces to eat. Because of this inconvenience, it is much more common to see players using a Bunyip for healing.
The fly option can only be used on Karamja. This move doesn't use the special bar and thus can be used repeatedly. The Fruit Bat mainly collects bananas, oranges, limes, lemons, and occasionally pineapples.
Each fly takes around 8 seconds and 0-5 fruits are stored in the Fruit Bats inventory. Fly can also be used inside buildings, but only on ground floor.
Since the timer doesn't proceed when the bat is off gathering fruits, you can keep the bat for many hours. Therefore it is possible to get thousands of fruits with 1 pouch. Although the fruit only heals 20 lifepoints, this could be considered as an almost infinite supply of healing. However, this tactic can only be used on Karamja, and the flight takes a while. Once the timer reaches 30 seconds, you can no longer make the Fruit bat fly.
You can still use this tactic in addition to the fruit fall scroll. Therefore you should stand next to the Shilo village bank. When your Fruit Bats special bar reaches 0, you can use the Fly-tactic to further increase your profits.
You could also stand near a leprechaun (at the fruit tree patch in Brimhaven, or the calquat patch at Tai Bwo Wannai), who will note any kind of fruit that can be player-grown (even if you do not have the farming level to grow it). This includes everything listed above, not counting lemons and limes.
The Fruit bat forages papayas, pineapples, coconuts, strawberries, watermelons, strawberry seeds, and watermelon seeds. Thanks to its lengthy timer, it can produce a significant volume of fruit, enough to more than make up the cost of its pouch several times over.
Money making
Edit
Casting fruitfall
Profit
Skill requirements
Other requirements
Experience
 

2,029,938

69
None
1300
Although a banana is required to infuse the pouch, a cooking apple is shown on the infused pouch. Only the banana is dropped by the fruit fall special.
Without using the special "fly" the bat will remain active for 45 minutes, recharging a total of 1350 special move points (15 every 30s), adding on the starting 60, one can cast "Fruitfall" 235 times.
When chatting with Fruit bat, it will sometimes say "Can I have a Papaya?", however if you use Papaya fruit on it, nothing interesting will happen.
Gold charm

Spirit wolf • Dreadfowl • Spirit spider • Thorny snail • Granite crab • Spirit mosquito • Bull ant • Spirit terrorbird • Barker toad • War tortoise • Arctic bear • Spirit war pig • Spirit prayer pig • Spirit pack pig

Green charm

Desert wyrm • Compost mound • Beaver • Void ravager • Macaw • Spirit cockatrice • Spirit guthatrice • Spirit saratrice • Spirit zamatrice • Spirit pengatrice • Spirit coraxatrice • Spirit vulatrice • Magpie • Abyssal parasite • Ibis • Abyssal lurker • Bunyip • Fruit bat • Forge regent • Giant ent • Hydra • Unicorn stallion • Abyssal titan

Crimson charm

Spirit scorpion • Spirit Tz-Kih • Vampyre bat • Honey badger • Evil turnip • Pyrelord • Bloated leech • Smoke devil • Spirit cobra • Stranger plant • Ravenous locust • Phoenix • Granite lobster • Praying mantis • Talon beast • Spirit dagannoth • Swamp titan • Wolpertinger • Iron titan • Pack yak • Steel titan

Blue charm

Albino rat • Spirit kalphite • Giant chinchompa • Void shifter • Void spinner • Void torcher • Bronze minotaur • Iron minotaur • Spirit jelly • Steel minotaur • Spirit graahk • Spirit kyatt • Spirit larupia • Karamthulhu overlord • Mithril minotaur • Obsidian golem • Adamant minotaur • Fire titan • Ice titan • Moss titan • Lava titan • Rune minotaur • Geyser titan

Other

See also: Summoning • Beast of Burden • Forager • Charms • Summoning Obelisks • Summoning pets • Summoning pouches • Summoning scrolls • Wishing well • Dungeoneering familiars