The Fremennik Slayer Dungeon is a dungeon located south-east of Rellekka, featuring monsters that can only be killed by those adept in the Slayer skill. The monsters get progressively stronger as the player goes deeper into the dungeon. It was released during the Slayer skill update on 26 January 2005.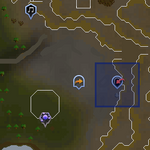 Players may reach this location by:
Teleporting to their house (if in Rellekka) or using a Rellekka house tablet.
Using the Fremennik home teleport and running south-east.
Via the fairy rings, using the code

A•J•R

.
The eagle transport system gets the player a bit to the north of the dungeon.
Travelling south from the entrance to the underground city of Keldagrim.
Using the ring of slaying or slayer mask teleport. The Mask of Stone, Mask of Reflection and Mask of the Kura and their upgraded helm versions can teleport players to the cockatrice, basilisk and kurask areas of the dungeon, respectively. Each mask or helm is limited to two teleports per day.
Using the portals inside one of the chambers on the lower floor of the Pollnivneach Slayer Dungeon (assuming that they have fought at least one of the bosses.)
Using enchanted lyre to teleport south of the entrance to Rellekka and then walk the rest of the way.
Note: Everything but the kurask and cave crawlers are unaggressive (although the cave crawlers are only aggressive to players with a combat level of 46 and below). Dwarf multicannons cannot be used in this dungeon because the air in the tunnel is too "humid".
This dungeon contains several Slayer monsters each with its own chamber.
The first chamber contains eight cave crawlers (level 10 Slayer is required to kill them). They are level 76 and 106. This chamber also contains an Agility shortcut which, at level 81 Agility, can be used to enter the pyrefiend area.
The second chamber contains seven rockslugs - level 20 Slayer and a bag of salt are required to kill them. These are level 70.
The third chamber contains seven cockatrice. They require level 25 Slayer and a mirror shield or a Mask of Stone/Reflection - without one, the player's stats (including life points) will be dangerously reduced. They commonly drop level 2 clue scrolls. These are level 44.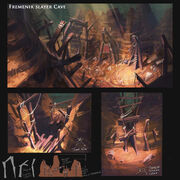 When examining the cave entrance from the outside, the game text used to read, "Wow - it's a guinea pig! No, hang on, it's a cave." - a pun on "cavie". Now it reads, "It leads to a small cave."
The layout of the dungeon is backwards. One enters by walking east but then to progress through the caves, the player must go west.
Most of the monsters drop white/gold parts of the mystic set.
When the slayer cave was first introduced, it was only possible to get further into the cave using agility shortcuts. Thus, a player could get stuck after using an agility potion, followed by the effect fading.