Fountain of Heroes
Discuss

5
22,486pages
on this wiki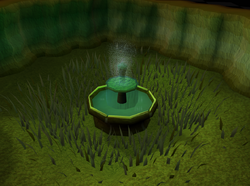 The Fountain of Heroes is in a small side passage near the runite ore rocks, in the dungeon of Heroes' Guild. Players can recharge certain pieces of enchanted dragonstone jewellery by using them on the fountain, all pieces that a player has in his/her inventory or equipped on their character are recharged. This is applicable to the Amulet of Glory and the Ring of wealth. The amulet of glory has its four teleport charges restored and you have 40% greater chance of getting gems while Mining restored. Pieces can be recharged even if they are not completely uncharged.
Players often charge these items as a way of making money. It is recommended that you wear a charged Games necklace or use the home teleport to travel to Burthorpe as it is nearby, and there is a bank chest there.
The Fountain of Heroes can also charge the Amulet of glory (t). However, the skills necklace and combat bracelet could only be recharged by the Gilded totem.
Note: If your familiar is carrying uncharged amulets of glory or rings of wealth, it will not charge them in your Beast of Burden. Usually what players do is they drop their amulets of glory or the rings of wealth on the ground next to them, withdraw the uncharged items, then they charge the uncharged amulets of glory or rings of wealth and they deposit the charged items in their Beast of Burden. Players then pick up their dropped items. However, players may lose the items if they accidentally teleport or disconnect while some of them are on the ground. A safe way would be to leave one space empty in the inventory and the beast of burden's inventory, and swap charged and uncharged rings or amulets one by one when recharging.
The fountain used to be located on the ground floor where the statues are now, but it was moved when the Burthorpe Games Room and its associated teleport with the Games necklace made its debut.