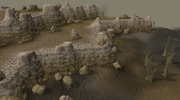 The Forinthry Cliffs is the large mountain range upon which the Troll Country rests and that separates it from the Wilderness. The name was revealed with the release of Troll Invasion as Cliff, a troll larger even than Dad, had eaten a chunk of the cliffs. They are named Forinthry Cliffs because the Wilderness was called Forinthry before the God Wars.
Ad blocker interference detected!
Wikia is a free-to-use site that makes money from advertising. We have a modified experience for viewers using ad blockers

Wikia is not accessible if you've made further modifications. Remove the custom ad blocker rule(s) and the page will load as expected.