Flute Salad is a music track that was formerly unlocked around Mill Lane Mill, although it no longer plays there as of the release of RuneScape 3 and can be played only from the music player.
Remastering
Edit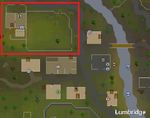 On the 12th of June 2013, RuneScape made an announcement on Facebook that the Irish Flautist Eimear McGeown was joining their record studio to perform a new version of the Flute Salad theme. Mcgeown herself also posted an image on Twitter of herself during a recording session.
A preview of the remastered version of Flute Salad can be heard during the last 30 seconds of the RS3 30 Minute Orchestral Medley[1], which is a compilation of various RuneScape soundtracks that were remastered due to the release of Runescape 3 in July 2013. The preview has a distinct salsa rhythm to it, with instruments such as percussion, guitar and flute.
The remastered version of Flute Salad has not been released, with no confirmation if it was finished. Thus, the new version of Flute Salad is currently unavailable in-game as well as on the RuneScape website.
A RuneFest remixed version of Flute Salad is featured on Through The Ages Original Soundtrack.
The song is a pun on "fruit salad", which is a dish consisting of various kinds of fruit.
The unlock hint used to be: This track was unlocked at the Lumbridge windmill area.
References
Edit
Lists
NPCs

Prifddinas musicians
Menaphos musicians

Musical instruments
Bard Roberts Songs
Official Sound Tracks
Miscellaneous
Ad blocker interference detected!
Wikia is a free-to-use site that makes money from advertising. We have a modified experience for viewers using ad blockers

Wikia is not accessible if you've made further modifications. Remove the custom ad blocker rule(s) and the page will load as expected.