Fluffy is a character featured in the Easter events Splitting Heirs & Egg-Streme Management. Fluffy is one of the intelligent squirrels hired by the Easter Bunny to work on the burrow's nut sorting machine.
He may randomly shout sayings and questions. Upon completion of the 2010 Easter event, the player was rewarded with Squirrel Ears. These have the ability to summon Fluffy, but he will only follow the player for a short time and once he disappears, he can't be summoned again for 30 minutes. If the player also finished the Factory Management part of the event in less than 15 turns, the Squirrel Ears could also summon Charlie the squirrel.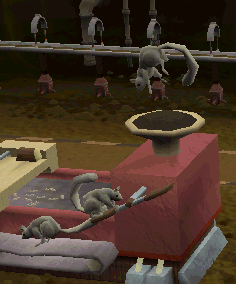 When talking with Fluffy one of his conversations is an argument with the player in which he claims it is a "wonderful day" rather than just a "nice day." He then threatens to gnaw the player unless they agree that it is a "wonderful day" (which triggers a unique chathead animation from the player after (s)he replies).
Occasionally Fluffy will yell out "DOG!", which is a reversal of a scene in the 2009 movie Up in which dogs shout "SQUIRREL!" excitedly when they think they see one.
When you talk to another Fluffy that is not yours it will reply "Hello, you smell nice.".
When summoning one of the Squirrels they will yell out "Feel my Squirrelly WRATH!" this is a reference to a popular Newgrounds series called "Neurotically Yours" where Foamy the Squirrel yells out the same phrase.
When the Easter event first came out, players could cast air strike, or use a dwarf multicannon on other player's squirrels and kill them, only having to hit 1. Doing so would obtain normal bones. This has been fixed.
Fluffy's job is similar to the squirrels' job in Roald Dahl's "Willy Wonka and the Chocolate Factory".
Summoning

| | |
| --- | --- |
| Dogs | Bulldog • Dalmatian • Greyhound • Labrador • Sheepdog • Terrier |
| Birds | Penguin • Raven • Saradomin owl • Guthix raptor • Zamorak hawk • Ex-ex-parrot • Phoenix eggling • Vulture |
| Slayer | Creeping hand • Minitrice • Baby basilisk • Cresbot • Baby kurask • Baby aquanite • Abyssal minion • Freezy • TzRek-Jad |
| Hunter | |
| Quest | |
| Others | |

Cats

Cat • Wily cat • Hellcat • Purple cat • Clockwork cat

Fire creatures

Warming Flame • Twisted Firestarter • Searing Flame • Glowing Ember

Holiday
Others
Solomon's General Store
Squeal of Fortune