Flighted ogre arrow
Release
18 May 2004 (Update)
Members
Yes
Quest item
Big Chompy Bird Hunting
Tradeable
Yes
Equipable
No
Stackable
Yes
Disassembly
Yes
Value
1 coin
High alch
0 coins
Low alch
0 coins
Destroy
Drop
On death
Reclaimable
Reclaim: 46
Sacrifice: 184
Exchange

312

coins (info)
Buy limit
1,000
Weight
0 kg
Examine
A wooden arrow shaft with four flights attached.
[FAQ] • [doc]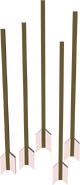 Flighted ogre arrows are arrows used with Ogre bows and Composite ogre bows. They are made by using a knife on achey logs to make ogre arrow shafts, and then by using 4 feathers per arrow shaft made to create the arrows themselves. Doing so requires level 5 Fletching, granting 0.9 Fletching experience per flighted arrow created.
Adding wolf bone arrowheads makes ogre arrows, while using nails on them will make brutal arrows.
Disassembly
Edit
NPCs
Enemies
Items
Rewards
 Ogre bow
Locations
Music
Miscellaneous
NPCs
Enemies
Items
Locations
Music
Miscellaneous
Arrows
Bolts

| | |
| --- | --- |
| Gem | |
| Other | |
| Unfinished | |
| Bane | |

Darts
Ad blocker interference detected!
Wikia is a free-to-use site that makes money from advertising. We have a modified experience for viewers using ad blockers

Wikia is not accessible if you've made further modifications. Remove the custom ad blocker rule(s) and the page will load as expected.