The fleshy parchment was a part of the Walk Like a Zombie promotion. It tracked the various tasks available that could be completed to earn rewards. Players could claim the parchment by opening the Treasure Hunter interface. Ironman Mode players could claim it from Diango.
The fleshy parchment was removed from the game on 14 November 2016.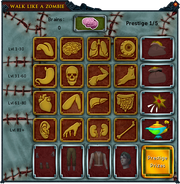 Ad blocker interference detected!
Wikia is a free-to-use site that makes money from advertising. We have a modified experience for viewers using ad blockers

Wikia is not accessible if you've made further modifications. Remove the custom ad blocker rule(s) and the page will load as expected.