Flax is a plant picked from a flax field, used to create bowstring. It grants 1 Farming experience when picked. Players with level 1 Crafting can use the picked flax on a spinning wheel to create a bowstring, granting 15 Crafting experience. It can alternately be used to make nets for holding seaweed. It is possible to pick multiple flax from one plant. Flax plays a giant role in the economy.
Flax can be found in various places:
It is not easy to sell flax for quick money, so players are advised to turn them into bowstrings first to gain more money. It takes (with no armour equipped, and run turned on) approximately 75 seconds (non-stop) in Lumbridge Castle to spin an entire inventory of flax into bowstrings.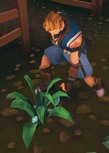 Disassembly
Edit
Drop sources
Edit
This list was created dynamically. For help, see the FAQ.
To force an update of this list, click here.
For an exhaustive list of all known sources for this item, see here.
Strategies
Edit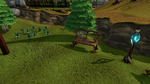 Ad blocker interference detected!
Wikia is a free-to-use site that makes money from advertising. We have a modified experience for viewers using ad blockers

Wikia is not accessible if you've made further modifications. Remove the custom ad blocker rule(s) and the page will load as expected.