Flaming skull
Discuss

11
22,529pages
on this wiki

The Flaming skull was a vanity item obtained by redeeming a 90/100 day game card[1]. It can be changed into four colours: red, green, blue, and purple. Between 20 December 2012 and 31 January 2013 players can also get access to this item by purchasing a Gold Membership in the Premier Club.
As of the 18th of March you can purchase the skull from Solomon's Store.
Combat Stats

| Class | Slot |
| --- | --- |
| None | |

Weapons
Main
Off
Damage
-
-
Accuracy
-
-
Type
-
-
Attributes
Armour rating

0

Life bonus

+0

Prayer bonus

0

Critical bonuses

0%

0%

0%

Compare item

A player wearing a red flaming skull

[view] • [talk]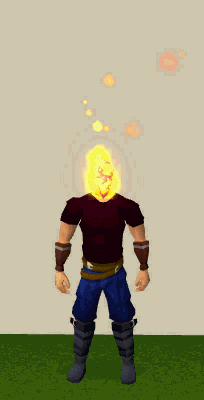 Retailers
Edit
Flaming skulls could be obtained by redeeming a 90/100 day game card purchased from the following retailers; it was available from 22 June 2012 until 15 July 2012[2]. Afterwards it was also made available between 5 November 2012 and 18 November 2012 at Bart Smit.
UK: GAME
United States: Gamestop , 7-11 stores
Canada: EB Games
Australia and New Zealand: EB Games
Republic of Ireland, Norway, Sweden, Germany, Finland, Austria, Denmark and Switzerland: Gamestop
The Netherlands: Bart Smit
This is the first vanity item to use particles.
Unlike the other vanity items, besides the Golden katana, the Flaming skull could be seen in game before Jagex said how to get it.
Jagex stated that to obtain the skull you needed to buy a card from Gamestop in the U.S., however before Jagex released the information, it was possible to obtain one from a 3 month card purchased at Walmart.
The skull very strongly resembles the Marvel character Ghost Rider and may have been inspired by him.
It should be noted that the flaming skull comes in colours resembling four of the gods: orange/red for Zamorak, blue for Saradomin, green for Guthix and finally purple for Zaros. This makes it a useful item for those wishing to show their affiliation to those gods, although this has no effect in the God Wars Dungeon.
References
Edit
^ Jagex. Vanity Item List.

*

^ Jagex. Get your Flaming Skull!.

*
Vanity items and membership thanks gifts

Vanity items

| | |
| --- | --- |
| 2010 | Flagstaff of festivities |
| 2011 | Ornate katana • Runefest 2011 hood • Green skin • Golden scythe • Turkey hat • Ice mask |
| 2012 | Barbed bow • Flaming skull • Golden katana • Scarecrow mask • Lightning staff 1 2 3 4 • Bloodpouncer • Paladin Outfit |
| 2013 | |

Membership thanks gifts

| | |
| --- | --- |
| 2011 | |
| 2012 | Mad necklace • Tropical Islander outfit • Promissory note • Fate cards • Soul phylactery • Deathtouched dart • Emergency healing box • Portable deposit box • Festive aura |
| 2013 | |

Other gifts

| | |
| --- | --- |
| 2010 | Golden cracker |
| 2011 | Chrome goggles |
| 2012 | Cape of Validation • Boogie bow • 200m glasses • Beta scientist outfit • Book of Faces |