Walkthrough
Edit
Getting started
Edit
Getting Some Help
Edit
Go to the Northern part of the fence at McGrubor's Wood.
Squeeze through the loose railing and find some Red vine worms by checking the red vines found in the northwestern part of the wood. The spade from your tool belt WILL work.
Get more than three worms, it may take more especially if you mess up so if you want to save yourself a trip get at least 10.
Take three of the worms and head to Hemenster (SW of Seer's Village and directly west of Ranging Guild).
The Vampyre
Edit
Finishing Up
Edit
Either talk to Bonzo and pay him 5 coins or fish at the newly obtained fishing spot to start the contest.
Keep fishing until a Giant carp is caught.
Give the carp to Bonzo.
Report back to Austri or Vestri.
Quest complete!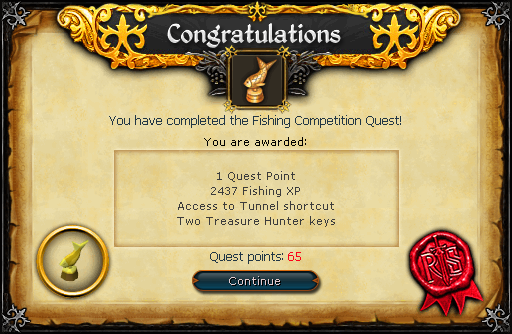 Music unlocked
NPCs
Items
Scenery
Locations
Music
Miscellaneous
Quick guide • Transcript
Ad blocker interference detected!
Wikia is a free-to-use site that makes money from advertising. We have a modified experience for viewers using ad blockers

Wikia is not accessible if you've made further modifications. Remove the custom ad blocker rule(s) and the page will load as expected.