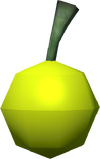 A fireberry is a kind of berry that may be grown in the berry planter in the learning centre of Tuai Leit by planting a fireberry seed. They may be eaten to give a temporary boost to Magic (at most two levels above the maximum) and lower Defence by one level.
Then can also be sold to Sinuman (food merchant) on Cyclosis or to Terri (fruit merchant) on Tuai Leit like the other berries and berry seeds found in the Arc.
Store locations
Edit
Ad blocker interference detected!
Wikia is a free-to-use site that makes money from advertising. We have a modified experience for viewers using ad blockers

Wikia is not accessible if you've made further modifications. Remove the custom ad blocker rule(s) and the page will load as expected.