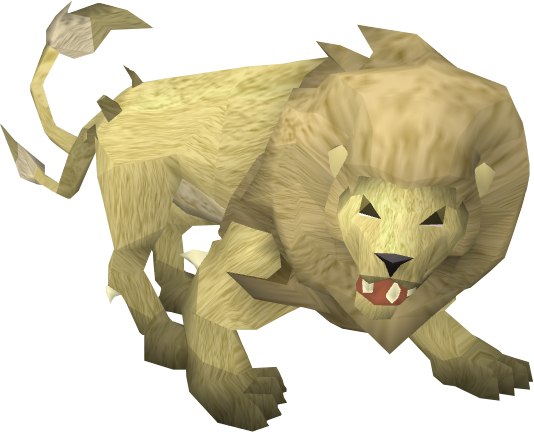 No higher resolution available.
Appears on these pages

of
v • d • e Graphical updates

The Shaikahan is a lion-like creature which prowls the eastern jungle of Karamja (usually south...

FEAR THE WRATH OF A MAHJARAT!, I am an awesome shapeshifter!, grrr dwa-gon, You decide to not...
See full list >
File history
Click on a date/time to view the file as it appeared at that time.
Date/Time
Thumbnail
Dimensions
User
Comment
current
18:55, April 14, 2013
534 × 432

(216 KB)

The Mol Man (Talk | contribs)
opp
21:49, November 26, 2011
534 × 432

(286 KB)

Joel amos (Talk | contribs)
Compression - PNGOut
09:03, June 2, 2011
534 × 432

(300 KB)

Battleben (Talk | contribs)
Err whoever did that trans missed a spot..
08:54, June 2, 2011
532 × 431

(299 KB)

Battleben (Talk | contribs)
How is that better? This one has EPIC POSE!
13:02, June 1, 2011
886 × 868

(904 KB)

Joeytje50 (Talk | contribs)
Better angle, bigger, idle. If this image stretches, do NOT reupload. more info
23:13, May 30, 2011
532 × 431

(299 KB)

Kyle8497 (Talk | contribs)
18:08, May 30, 2011
534 × 432

(300 KB)

Walrus068 (Talk | contribs)
Reverted to version as of 20:38, May 26, 2011 - side views look awkward.
17:55, May 30, 2011
959 × 559

(669 KB)

Fswe1 (Talk | contribs)
More menacing.
07:47, May 30, 2011
534 × 432

(300 KB)

Battleben (Talk | contribs)
Been a few days, reuploaded.
20:38, May 26, 2011
534 × 432

(300 KB)

Walrus068 (Talk | contribs)
trans
20:50, May 25, 2011
663 × 513

(530 KB)

AndorinKato (Talk | contribs)
Reverted at Fergie's request
20:04, May 25, 2011
536 × 430

(376 KB)

Poketama (Talk | contribs)
Reverted to version as of 20:03, May 25, 2011
20:04, May 25, 2011
536 × 430

(376 KB)

Poketama (Talk | contribs)
Comon revert already. I dunno it's probably just the servers screwing up. Come back later and fix it.
20:03, May 25, 2011
398 × 317

(88 KB)

Poketama (Talk | contribs)
I'm sorry, I uploaded the new Shaikhan but for some reason it reverted to the old one. Not my fault. Just reverting now.
20:03, May 25, 2011
536 × 430

(376 KB)

Wildbeast300 (Talk | contribs)
Graphically Updated + Trans
20:02, May 25, 2011
663 × 513

(251 KB)

Poketama (Talk | contribs)
I removed the background. I'm not very good with PS so someone else can transparent/smooth the edges/matte. Thanks.
19:44, May 25, 2011
398 × 317

(88 KB)

Malfioz (Talk | contribs)
Transparent + crop
19:37, May 25, 2011
663 × 513

(530 KB)

ScionCrush (Talk | contribs)
Reverted to version as of 18:10, May 25, 2011 Only reason I see here to revert to the old one is to troll
19:17, May 25, 2011
663 × 513

(530 KB)

Chiro9 (Talk | contribs)
Reverted to version as of 18:10, May 25, 2011
19:16, May 25, 2011
603 × 534

(202 KB)

Chiro9 (Talk | contribs)
Reverted to version as of 08:46, March 13, 2011
18:10, May 25, 2011
663 × 513

(530 KB)

Battleben (Talk | contribs)
08:46, March 13, 2011
603 × 534

(202 KB)

Thebrains222 (Talk | contribs)
compressed
08:22, January 28, 2011
603 × 534

(212 KB)

Ryu Zwei (Talk | contribs)
Transparency, with a lot of sampling and frustration to fill in grass, claws, etc.
21:11, November 17, 2010
605 × 538

(416 KB)

Spineweilder (Talk | contribs)
Bigger
02:49, November 9, 2008
236 × 175

(19 KB)

Kytti khat (Talk | contribs)
HD (poor thing didn't really get much of an HD makeover, just some new skin texture)
08:48, February 7, 2008
98 × 82

(3 KB)

Chicken7 (Talk | contribs)
22:56, April 4, 2007
98 × 82

(3 KB)

Roman Jerk (Talk | contribs)
A pic of The Shaikahan