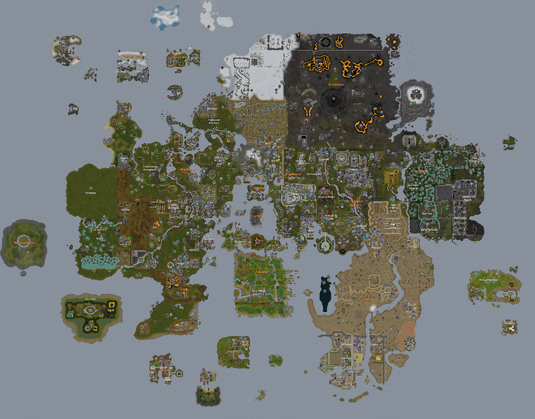 There is no description yet. Add a description.
Appears on these pages

of
This article is a consolidation of all subpages of the Treasure Trails/Guide page. It simply...

A compass clue can be part of an elite treasure trail. Compass clues were added to the game as...

The World map interface is a large, scrolling map of the entire surface of Gielinor. On the map...
See full list >
File history
Click on a date/time to view the file as it appeared at that time.
Date/Time
Thumbnail
Dimensions
User
Comment
current
13:21, June 5, 2017
3,712 × 3,328

(2.11 MB)

Basenji (Talk | contribs)
menaphos
19:03, May 18, 2017
3,712 × 3,328

(2.06 MB)

Basenji (Talk | contribs)
Updated 18 May 2017, someone update Map:World_map :3
07:47, July 8, 2015
3,712 × 3,335

(1.64 MB)

Ikad IV (Talk | contribs)
Same image, just covered/removed Demon Flash Mob icon that was in the wilderness. (compressed)
02:20, July 7, 2015
3,712 × 3,335

(3.1 MB)

Iiii I I I (Talk | contribs)
compressed
00:27, July 7, 2015
3,712 × 3,335

(4.26 MB)

Ikad IV (Talk | contribs)
6 July 2015. Tuska crash landing. Ashdale. Same appearance as in-game.
09:18, November 27, 2014
3,713 × 3,329

(1.64 MB)

Jlun2 (Talk | contribs)
Reverted to version as of 00:17, February 4, 2014
21:47, November 26, 2014

Error creating thumbnail: Invalid thumbnail parameters

7,268 × 6,312

(7.65 MB)

Jlun2 (Talk | contribs)
courtesy of cook me plox
00:17, February 4, 2014
3,713 × 3,329

(1.64 MB)

Peloreus (Talk | contribs)
Updated to more current version, with added divination spots, changed hue, and lumbridge crater, among other things.
01:43, June 21, 2013
3,710 × 3,327

(2.84 MB)

Gondor2222 (Talk | contribs)
Date: 20 June 2013. Changes: Shows new darker map colors, icons positions and font sizes on the map have changed slightly. Changes to following buildings: slayer tower, duel arena Following dungeons added: TWW ruins, Order of Ascension, The Nexus, Exil...
19:06, December 12, 2012
3,713 × 3,329

(2.06 MB)

Italay90 (Talk | contribs)
15:46, August 21, 2012
3,713 × 3,329

(1.93 MB)

SandroHc (Talk | contribs)
Updated Rimmington
07:01, July 19, 2012
3,713 × 3,329

(1.93 MB)

Image optimisation bot (Talk | contribs)
(Automated) PNG recompression
12:45, June 19, 2012
3,713 × 3,329

(2.83 MB)

Joeytje50 (Talk | contribs)
+The Crucible
17:21, March 27, 2012
3,713 × 3,329

(2.04 MB)

Rankata28 (Talk | contribs)
Updated, lodestones, new ground textures, etc.
03:18, February 5, 2012
3,713 × 3,329

(2.09 MB)

Brenr (Talk | contribs)
New revision as of: 31-Jan-2012
19:34, November 9, 2011
3,713 × 3,329

(2.07 MB)

Luisfox37 (Talk | contribs)
Reverted to version as of 17:17, November 9, 2011
19:12, November 9, 2011
3,686 × 3,271

(2.31 MB)

Luisfox37 (Talk | contribs)
Reverted to version as of 08:29, May 15, 2011
17:17, November 9, 2011
3,713 × 3,329

(2.07 MB)

Luisfox37 (Talk | contribs)
Map from Runescape website, accurate as of 7/11/2011
08:29, May 15, 2011
3,686 × 3,271

(2.31 MB)

Chiro9 (Talk | contribs)
22:43, May 12, 2011
3,714 × 3,269

(1.84 MB)

Gribonn (Talk | contribs)
Fixed the location names of Tutorial Island and Kalphite hive
22:18, May 12, 2011
3,714 × 3,269

(1.81 MB)

Gribonn (Talk | contribs)
Remapped
21:13, March 27, 2011
3,713 × 3,329

(1.89 MB)

Henneyj (Talk | contribs)
15:19, March 27, 2011
3,713 × 3,329

(1.89 MB)

Henneyj (Talk | contribs)
remapped.
20:50, March 18, 2011
3,713 × 3,329

(6.65 MB)

RedWingz (Talk | contribs)
World Map after the Trollheim area update, 15/3/2010, I've only changed the Trollheim area and nothing else.
19:35, September 29, 2010
3,713 × 3,329

(8.21 MB)

Evil1888 (Talk | contribs)
compressed
13:57, August 27, 2010
3,713 × 3,329

(8.47 MB)

Lutecium (Talk | contribs)
New Void Knight Outpost, added island below Daemonheim
20:56, April 29, 2010
3,713 × 3,329

(8.34 MB)

The last username left (Talk | contribs)
Official map, from Jagex website. Confirmed accurate as of April 28th. Compressed with Pngout and Pngcrush. Also, no sharp edges from resizing.
17:14, April 28, 2010
2,719 × 2,337

(2.04 MB)

Jimbob1028 (Talk | contribs)
added new buyers and cellars quest start ~~~~
18:47, April 3, 2010
2,719 × 2,337

(809 KB)

Runer112 (Talk | contribs)
Compressed
22:43, April 2, 2010
2,719 × 2,337

(865 KB)

Repaxan (Talk | contribs)
Repairing cut-off islands, switch to png8
22:23, April 2, 2010
3,110 × 2,304

(1.72 MB)

Repaxan (Talk | contribs)
Re adding in the new distraction
05:12, April 2, 2010
3,110 × 2,304

(1.08 MB)

The last username left (Talk | contribs)
Cropped, compressed
17:09, March 29, 2010
3,144 × 2,351

(1.58 MB)

Parsonsda (Talk | contribs)
Soul Wars Moved
10:38, March 24, 2010
3,110 × 2,304

(1.26 MB)

Parsonsda (Talk | contribs)
*New Castle Made Png *New D&D added *Fishing Guild Updated *2 New Hidden Updates - Fields Added
22:43, March 14, 2010
3,110 × 2,304

(1.06 MB)

Iiii I I I (Talk | contribs)
Compressed
22:29, March 14, 2010
3,110 × 2,304

(1.94 MB)

The last username left (Talk | contribs)
Not updating, just cropping and reducing size - only accurate up to last image.
17:33, February 22, 2010
3,144 × 2,351

(3.08 MB)

Mythbusterma (Talk | contribs)
Sorry, i made a mistake, last one didnt have the castle, this one does :)
17:27, February 22, 2010
3,144 × 2,351

(1.93 MB)

Mythbusterma (Talk | contribs)
added new castle in wilderness
20:06, January 15, 2010
3,144 × 2,351

(1.93 MB)

Parsonsda (Talk | contribs)
Nomad's Requiem Quest Start Added
20:56, January 11, 2010
3,144 × 2,351

(638 KB)

El Snubbe (Talk | contribs)
Compressed with pngout
21:24, January 6, 2010
3,144 × 2,351

(686 KB)

Iiii I I I (Talk | contribs)
smaller filesize
13:21, January 6, 2010
3,144 × 2,351

(826 KB)

Con No 1 (Talk | contribs)
16:46, December 20, 2009
3,144 × 2,351

(686 KB)

Iiii I I I (Talk | contribs)
Cropped, indexed
16:37, December 20, 2009
3,286 × 2,456

(1.62 MB)

Parsonsda (Talk | contribs)
*Blood Runs Deep Quest Start Added *Draynor Manor Updated
17:31, December 14, 2009
3,286 × 2,456

(1.62 MB)

Parsonsda (Talk | contribs)
Removed the Empty Black Spots abit
17:27, December 14, 2009
3,580 × 2,801

(1.65 MB)

Parsonsda (Talk | contribs)
Took ages , this is the updated map made by parsonsda on the 14/12/09 - 17:30