Walkthrough
Edit
Start point

Talk to Lady Servil north of the Khazard fight arena town, which is south of Ardougne.
Member requirement
Members only
Official difficulty
Experienced
Official length
Medium
Requirements
Skill requirements are not boostable.

Able to defeat level 50, 64, 77, and 2 optional 84 enemies without restocking on items

Items required
Items from the tool belt are not listed unless they do not work or are not automatically added.
Enemies to defeat
Getting started
Edit
Talk to the Lazy Khazard Guard sitting in the Southeastern corner of the jail.
Buy a bottle of Khali brew for five Coins from the bar to the West of the Western jail entrance.
Run back and use the khali brew on the lazy guard. Wait for him to get drunk and then Steal keys from the Lazy Khazard Guard.
Use the keys on Jeremy's cell door.
The Arena
Edit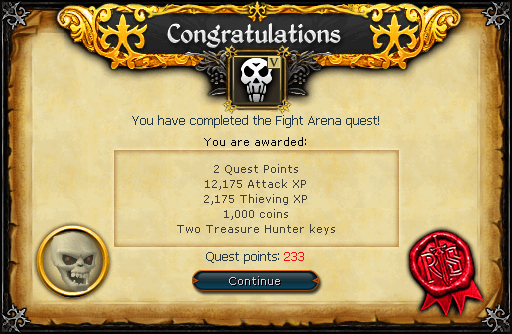 1,000 coins

12,175 experience
2,175 experience
2 Treasure Hunter keys and 2 Hearts of Ice

Music unlocked