Festive aura
Discuss

11
22,476pages
on this wiki
Festive aura
Release date
1 December 2012 (Update)
Tier
1
Price
Free
Lasting time
30 minutes
Cooldown time
23:30:00
Examine
Increases all experience gained by 50%.
[view]
•
[talk]
The Festive aura is a special aura that features a 50% experience boost and a wintery cosmetic effect.[1] It was released alongside December 2012's Winter Weekends. The "festive bonus" experience effect could remain activated for 30 minutes with a usage limit of once per day exclusively during the month of December, after which it became just a cosmetic aura. This item is the first and only aura available that does not require Loyalty points to purchase.
The aura was deposited upon logging in, into all members' inventories starting on 1 December and ending 31 December.[2] If both the bank and inventory were full, players could talk to Xuan to obtain the aura manually. Xuan will still replace the aura, even if lost after the event period. He also used to replace the aura if it was lost or destroyed each time the player spoke to him, even if they didn't want it, although this has been corrected. Players who subscribed at any time during December were still eligible to receive the aura.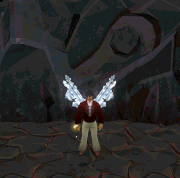 Combat Stats

| Class | Slot |
| --- | --- |
| None | |

Weapons
Main
Off
Damage
-
-
Accuracy
-
-
Type
-
-
Attributes
Armour rating

0

Life bonus

+0

Prayer bonus

0

Critical bonuses

0%

0%

0%

Compare item

A player wearing the festive aura

[view] • [talk]
Experience bonus
Edit
The bonus is said to have worked the same way as any other XP-boosting aura does. It is confirmed to stack with other bonuses such as skill pendants and skill outfits. It also did not boost one-time XP rewards, such as those from resource dungeon discoveries. The daily bonus experience was capped at 50,000.[2] The aura could be taken into Dungeoneering floors for bonus experience, although, not until 3 December.
The aura was revealed first through a lobby message, confirmed in forums, and after the news post, concept artwork from the RuneScape Facebook page was posted. Mention of it was among the login promotion messages on free-to-play servers.
This will be announced officially tomorrow, but it will indeed work like other Auras, with a 30 minute duration which can be used once per day. It will also have a cool wintery cosmetic special effect too!

— Mod Pips[3]
An animation can be triggered in which more snow falls from the wings. Toggling weapon sheath, equipping, and unequipping an item are a few of the display triggers.
This is the only aura to have "aura" directly in its name.
There is currently a glitch where the glowing runes of the aura will appear at your hand even when you have a staff sheathed.
The effect of the Inferno adze is less likely to activate with this aura activated.
Currently, this item still has a 24 hour cooldown, while only displaying a cosmetic effect for only 30 minutes.
Reclaiming the aura from Xuan resets the recharge timer to 24 hours.
For players who were not members during the month of December, this item is not obtainable (like other holiday and seasonal items).
References
Edit
Vanity items and membership thanks gifts

Vanity items

| | |
| --- | --- |
| 2010 | Flagstaff of festivities |
| 2011 | Ornate katana • Runefest 2011 hood • Green skin • Golden scythe • Turkey hat • Ice mask |
| 2012 | Barbed bow • Flaming skull • Golden katana • Scarecrow mask • Lightning staff 1 2 3 4 • Bloodpouncer • Paladin Outfit |
| 2013 | |

Membership thanks gifts

| | |
| --- | --- |
| 2011 | |
| 2012 | Mad necklace • Tropical Islander outfit • Promissory note • Fate cards • Soul phylactery • Deathtouched dart • Emergency healing box • Portable deposit box • Festive aura |
| 2013 | |

Other gifts

| | |
| --- | --- |
| 2010 | Golden cracker |
| 2011 | Chrome goggles |
| 2012 | Cape of Validation • Boogie bow • 200m glasses • Beta scientist outfit • Book of Faces |
Combat auras

Tier 1

Runic accuracy • Sharpshooter • Invigorate • Reverence • Poison purge • Knock-out • Friend in need

Tier 2

Runic accuracy • Sharpshooter • Invigorate • Reverence • Poison purge • Inspiration • Penance • Vampyrism • Equilibrium

Tier 3

Runic accuracy • Sharpshooter • Invigorate • Reverence • Poison purge • Knock-out • Ancestor spirits • Berserker • Dark magic • Regeneration

Tier 4

Runic accuracy • Sharpshooter • Invigorate • Reverence • Poison purge • Aegis
Skilling auras

Tier 1

Call of the sea • Five-finger discount • Greenfingers • Lumberjack • Quarrymaster • Tracker • Surefooted

Tier 2

Call of the sea • Five-finger discount • Greenfingers • Lumberjack• Quarrymaster • Tracker • Surefooted • Resourceful • Jack of trades

Tier 3

Call of the sea • Five-finger discount • Greenfingers • Lumberjack • Quarrymaster • Tracker • Wisdom

Tier 4

Call of the sea • Five-finger discount • Greenfingers • Lumberjack • Quarrymaster • Tracker
Wing auras

Tier 1
Tier 2
Tier 3
Tier 4
Cosmetic auras

Gaze

Abyssal gaze • Blazing gaze • Divine gaze • Infernal gaze • Mystical gaze • Nocturnal gaze • Serene gaze • Vernal gaze

Other

Oddball • Festive aura