The Ferret of Doom's friend is one of many red ferrets encountered during the Fremennik saga Thok Your Block Off. Thok once again meets the Ferret of Doom from Thok It to 'Em, however this time accompanied by many friends.
The ferrets all share a combat level of 9001. However, along with the original Ferret of Doom, the combat level is likely to be an exaggerated version of reality due to Thok's phobia of ferrets.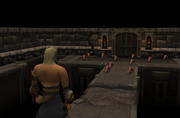 Ad blocker interference detected!
Wikia is a free-to-use site that makes money from advertising. We have a modified experience for viewers using ad blockers

Wikia is not accessible if you've made further modifications. Remove the custom ad blocker rule(s) and the page will load as expected.