A ferret is an animal that can be hunted with a box trap in the Piscatoris Hunter area, which can in turn be used to hunt white rabbits in the same area with the resulting ferret in your inventory. Completing Eagles' Peak and a Hunter level of 27 is required to hunt ferrets. They also appear in the Ardougne Zoo after completion of Eagles' Peak. Ferrets can be used to catch white rabbits.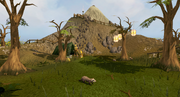 Ad blocker interference detected!
Wikia is a free-to-use site that makes money from advertising. We have a modified experience for viewers using ad blockers

Wikia is not accessible if you've made further modifications. Remove the custom ad blocker rule(s) and the page will load as expected.