This article is about Treasure Hunter item. For the item dropped by Nihil, see
Vampyre fangs
.

Feral vampyre fangs are a form of currency in a Treasure Hunter promotion, which are used to unlock the vampyre hunter outfit and the vampyre hunter stake launcher weapon override.
In addition they can be used to unlock the vampyre hunter amulet and its abilities and to charge the amulet.
It costs a total of 8,800 fangs to unlock all rewards (5,300 for outfit and 3,500 for amulet upgrades).
They were turned into 10 coins each on 9 May 2016.
Obtaining
Edit
Feral vampyre fangs can be obtained in various ways.
Daily challenges (25 fangs)
Various skilling and killing activities (10 fangs while in Morytania, 5 outside), 10-12 minute cooldown
Opening barrows chests (2 fangs)
Winning Temple Trekking Reward tokens (2 (blue), 3 (yellow), 4 (red))
Trading with other players.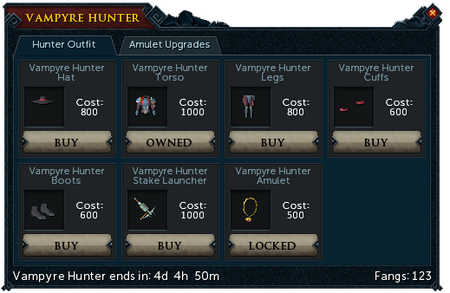 Ad blocker interference detected!
Wikia is a free-to-use site that makes money from advertising. We have a modified experience for viewers using ad blockers

Wikia is not accessible if you've made further modifications. Remove the custom ad blocker rule(s) and the page will load as expected.