Feathered serpent outfit
Release date
6 December 2011 (Update)
Members
Yes
Components
4
Runecoins
N/A
Loyalty Points
4,000 points
Recolourable
Yes
Available colours
Description
Represents an ancient and powerful civilisation.
These cosmetics will not display
in PvP-enabled areas.
[view] • [talk]

The Feathered serpent outfit is an outfit available to members as part of the Members Loyalty Programme. Members can obtain this costume in exchange for Membership Loyalty Points. Once purchased, the costume can be obtained again and again free of charge in any colour.
This outfit was originally an item set, and was known as the Aztec outfit. It was storable in the Fancy dress box of a player-owned house costume room. For those who purchased it before it was converted to a cosmetic override and had in their inventories or bank before the change, they still have those versions, their recolours are still in their original form.
It consists of: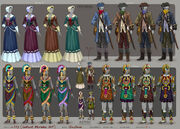 This outfit was previously known as the Aztec outfit.
The override is named after the Aztec deity Quetzalcoatl whose name literally means "feathered serpent".
Miscellaneous

Male Hairstyles
Female Hairstyles

Outfits
Accessories
Animations
Pets
Ad blocker interference detected!
Wikia is a free-to-use site that makes money from advertising. We have a modified experience for viewers using ad blockers

Wikia is not accessible if you've made further modifications. Remove the custom ad blocker rule(s) and the page will load as expected.