Fate cards were received as a reward for members subscribed from 1 August through to 30 September 2012. It offered four different unique items, that offered some of the largest advantages in the game; however, they were limited and disappeared after the year rolled over to 2013.
Players received the cards upon logging in and a message was displayed saying: "You have received a strange deck of cards that whispers of possibilities."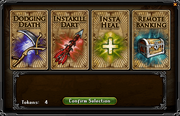 Ad blocker interference detected!
Wikia is a free-to-use site that makes money from advertising. We have a modified experience for viewers using ad blockers

Wikia is not accessible if you've made further modifications. Remove the custom ad blocker rule(s) and the page will load as expected.