Farming cape
Discuss

0
22,487pages
on this wiki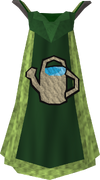 A
Farming cape
can be purchased for 99,000
coins
alongside the
Farming hood
from
Martin the Master Gardener
at
Draynor Village
by players who have achieved
skill mastery
(level 99) in
Farming
. It is the
Cape of Accomplishment
for the Farming skill. Farming capes are dark green in colour, and have a light green trim if the player has more than one level 99 skill.
The Farming cape is considered to be one of the hardest capes in the game to achieve, due to the immense amount of time and patience one requires to master the Farming skill. The skill can either result in a net profit or net loss depending on how it is trained.
The cape also has an emote, lasting 6.61 seconds, during which the player grows flowers and smells them. The Farming cape needs to be equipped in order to perform this emote.
Should a player achieve skill mastery in a second skill after Farming, the Farming cape will trim itself and become a Farming cape (t). The trimmed version has a light green trim and adds a +2 Prayer bonus to the cape's original stats. Achieving 99 Farming after another level 99 will automatically trim the cape received.
Combat Stats

| Class | Slot |
| --- | --- |
| All | |

Weapons
Main
Off
Damage
-
-
Accuracy
-
-
Type
-
-
Attributes
Armour rating

34

Life bonus

+0

Prayer bonus

2

Critical bonuses

2.0%

2.0%

2.0%

Compare item

A player wearing an untrimmed farming cape

A player wearing a trimmed farming cape

[view] • [talk]
There is an Easter egg on the skill menu which if you click on the skillcape icon it says you can't protect it by paying some farmer to care for it. This may be less an Easter egg, but more because every other item in the menu has this feature.
The Farming Symbol on the Skillcape currently is a lot smaller than before.
When purchasing the Farming cape from Martin the Master Gardner, Martin claims that master farmers are a 'rare breed' and that not many people own the Farming cape.
Regular capes

Cape (black) • Cape (blue) • Cape (green) • Cape (orange) • Cape (pink) • Cape (purple) • Cape (red) • Cape (yellow)

Combat capes

Cape of legends • Fire cape • Moonclan cape • Lunar cape • Obsidian cape • TokHaar-Kal • Saradomin cape • Zamorak cape • Guthix cape • Spirit cape • Soul Wars cape (red) • Soul Wars cape (blue)

Capes of Accomplishment(m)

Agility • Attack • Constitution • Construction • Cooking • Crafting • Defence • Dungeoneering (Master) • Farming • Firemaking • Fishing • Fletching • Herblore • Hunter • Magic • Mining • Prayer • Ranging • Runecrafting • Slayer • Smithing • Strength • Summoning • Thieving • Woodcutting • Quest point

Capes of Distinction(m)

Classic cape • Veteran cape (5 year)10 year • Max cape • Completionist cape • Milestone capes(10)(20)(30)(40)(50)(60)(70)(80)(90)

Cloaks

Ardougne cloak(1)(2)(3)(4) • Fremennik cloak • Ghostly cloak • H.a.m. cloak • Warlock cloak • Witch cloak • Web cloak • Mourner cloak • Saradomin cloak • Zamorak cloak • Guthix cloak • Armadyl cloak • Bandos cloak • Ancient cloak • Clan cloak • Hati cloak • Hallowed cloak • Unhallowed cloak

Drapes
Non-combat, quest- and minigame-related capes

Eagle cape • Firecape • Spottier cape • Herald cape • Wicked cape • Cape of Validation • Monkey cape • Royal cape • Dragon ceremonial cape

Castle Wars(m)

Saradomin cloak • Zamorak cloak • Saradomin team cape • Zamorak team cape • Flag cape • Kills cape • Hobbyist cape • Enthusiast cape • Professional cape

Miscellaneous objects

Ava's attractor • Ava's accumulator • Ava's alerter • Bonesack(e) • Diving apparatus • Rambler's backpack