Falador shield 3
Discuss

12
24,278pages
on this wiki

The Falador shield 3, also called the Tower shield, is a reward for completing the easy, medium and hard Falador Tasks. Players may obtain the shield from the squire in the White Knights' Castle. If you have lost the shield, speaking to the squire will allow you to obtain a new one. It is one of the items that are always kept on (normal) death, although it can be lost in the Wilderness if it is not among the 'Items kept on death'
Although the shield provides poor defensive stats (similar to an Adamant kiteshield), it has a prayer bonus of +5.
This shield requires a Defence level of 30 to be able to obtain, which makes it a somewhat counterpart to the adamant kiteshield except with a prayer bonus, just as Proselyte armour is.
Combat Stats

| Class | Slot |
| --- | --- |
| Melee | |

Weapons
Main
Off
Damage
-
-
Accuracy
-
-
Style
-
-
Attributes
Armour rating

125

Life bonus

+600

Prayer bonus

5

Critical bonuses

0%

0%

0%

Compare item

A player wielding the falador shield 3

A player doing the shield power emote of the falador shield 3

[view] • [talk]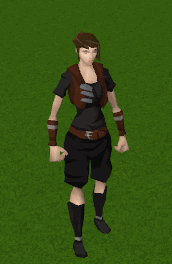 From Falador shields 1 and 2
Edit
When worn
Falador shield 3 only
Edit
Operate
Restore up to 100% of your max prayer points once per day (resets at 00:00 UTC)
At all times
Notes: The prayer restore feature is very hard to use during combat, as a confirmation chatbox is opened, and will be closed if you are hit. Therefore, it is unwise to rely on the shield to restore your prayer if it is essential to survival - however it is possible, with good timing, to restore prayer in single combat, although it is significantly harder to do so in multicombat. The power of the shield is usable even in the other-dimensional, Prayer-draining, Abyssal plane though it may be difficult to use it simply for the amount of high-level aggressive monsters attacking the player.
To some it resembles a shield of a Guard of the White Tree from J.R.R. Tolkien's Lord of the Rings: The Return of the King.
If you use the emote and quickly do a regular emote, you will do the normal emote while the icon still floats there.
Despite having the symbol of Saradomin on them, none of the Falador Shields offer protection from Saradomin's forces in the God Wars Dungeon.