Falador shield 2
Discuss

4
22,529pages
on this wiki
The Falador shield 2 is a kiteshield obtained from the Chemist in Rimmington when all the medium and easy Falador Tasks have been completed. It has the same stat bonuses as a Steel kiteshield, except that it also offers a prayer bonus. It is one of the items that are always kept on death when unskulled and outside the Wilderness, although it can be lost in the Wilderness if it is not among the most valuable items.
Combat Stats

| Class | Slot |
| --- | --- |
| Melee | |

Weapons
Main
Off
Damage
-
-
Accuracy
-
-
Type
-
-
Attributes
Armour rating

53

Life bonus

+300

Prayer bonus

4

Critical bonuses

0%

0%

0%

Compare item

A player wielding the falador shield 2

[view] • [talk]
From Falador shield 1
Edit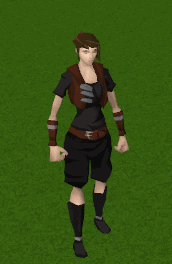 When worn
Falador shield 2 only
Edit
When worn
Operate
Restore up to 50% of your max prayer points once per day (resets at 00:00 UTC)
Notes: The prayer restore feature is very hard to use during combat, as a confirmation chatbox is opened, and will be closed if you are hit. Therefore, it is unwise to rely on the shield to restore your prayer if it is essential to survival - however it is possible, with good timing, to restore prayer in single combat, although it is significantly harder to do so in multicombat. The power of the shield is usable even in the other-dimensional, Prayer-draining, Abyssal plane though it may be difficult to use it simply for the amount of high-level aggressive monsters attacking the player.
This shield is designed as a specific style of kite shield called a heater shield.
If you happened to use the Falador shield to restore prayer and the next day you ran out of membership, due to an unknown reason, it will still say "Your Falador shield has been recharged."
If you face your camera so you can see the front of you, and do the shield's emote, you'll be able to see your cape through your body. This has not yet been fixed.
Despite having the symbol of Saradomin on them, none of the Falador Shields offer protection from Saradomin's forces in the God Wars Dungeon.
Prior to the Evolution of Combat update, the Falador shield 2 had higher combat bonuses (equivalent to a mithril kiteshield instead of a steel kiteshield).
Ardougne Tasks

| | |
| --- | --- |
| Taskmasters | |
| Rewards | Ardougne cloak – 1 • 2 • 3 • 4 |

Desert Tasks

| | |
| --- | --- |
| Taskmasters | |
| Rewards | Desert amulet – 1 • 2 • 3 • 4 |

Falador Tasks

| | |
| --- | --- |
| Taskmasters | |
| Rewards | Falador shield – 1 • 2 • 3 • 4 |

Fremennik Province Tasks

| | |
| --- | --- |
| Taskmasters | |
| Rewards | Fremennik sea boots – 1 • 2 • 3 • 4 |

Karamja Tasks

| | |
| --- | --- |
| Taskmasters | |
| Rewards | Karamja gloves – 1 • 2 • 3 • 4 |

Lumbridge and Draynor Tasks

| | |
| --- | --- |
| Taskmasters | Explorer Jack • Bob • Ned |
| Rewards | Explorer's ring – 1 • 2 • 3 • 4 |

Morytania Tasks

| | |
| --- | --- |
| Taskmasters | |
| Rewards | Morytania legs – 1 • 2 • 3 • 4 |

Seers' Village Tasks

| | |
| --- | --- |
| Taskmasters | |
| Rewards | Seer's headband – 1 • 2 • 3 • 4 |

Varrock Tasks

| | |
| --- | --- |
| Taskmasters | Rat Burgiss • Reldo • Vannaka |
| Rewards | Varrock armour – 1 • 2 • 3 • 4 |

Burthorpe and Taverley Tasks
Tasks set

Headband • Cloak • Chestplate • Shield • Gloves • Ring • Boots • Legs • Amulet