Ad blocker interference detected!
Wikia is a free-to-use site that makes money from advertising. We have a modified experience for viewers using ad blockers

Wikia is not accessible if you've made further modifications. Remove the custom ad blocker rule(s) and the page will load as expected.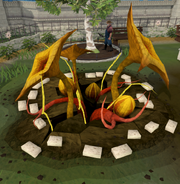 The
Falador Mole Lair
is a dungeon located underneath
Falador
. It can be entered from
Falador Park
, in the northern part of the city. There is a large flower in which the lair can be entered (although a
light source
is no longer required as of 27 January 2014). It is home to the level 230 
Giant mole
, a gigantic mole whom was exposed to
Malignius Mortifer's Super Ultra Flora Growth Potion
, and her
Baby moles
.
The mole is often killed for her drops of mole claws and mole skins, which can be traded with Wyson for bird's nests. These bird's nests are different from those received from Woodcutting, and can also contain lower level Farming seeds.
To get out of this labyrinth, go to the northern end and exit through the roots. The player will return to Falador Park.
Music unlocked:
Prior to the Holy Mole-y update, the lair had a lesser Summoning obelisk in it, and the entrance was one way. A rope could be found to the south of the cave, which allowed players to use the Falador Well as a one-way exit.