Loading...
Normal Arm in a sling Arm cut off Broken leg Injured head






The Fairies are a small race of winged humanoids that occupy Zanaris, along with the Mindslayers and Otherworldly beings. Although they resemble small humans, they are not too dissimilar from bugs, with their quick beating wings, antennae and wide eyes. The Fairies rarely travel to the plane of Gielinor, but they do maintain a significant amount of influence on the plane's weather and magic. They instead prefer to remain in their kingdom of Zanaris, being co-ordinated jobs by the Co-ordinator. They have, however, established connection to many other realms besides Gielinor; such as the Cosmic Plane, the Abyss, the Gorak Plane and the Ork Realm. They have lived in Zanaris for a long time, since before the God Wars, but they are not native to the plane.
Instead, the Faries found Zanaris a long time ago. It has since been described as 'the nexus of all planes' by the Co-ordinator and Fairy Godfather. Zanaris is an extremely old place, and was here long before the fairies came to live there with many dormant magical properties, such as those of the ability to jump between planes using a powerful portal that had been sealed for centuries, but the Fairy Queen harnessed the magic and used it to create the network of fairy rings, though not as powerful as the Portal would have been.
Fairies are responsible for most of the (non-rune) magic. They are also responsible for keeping the seasons, creation, and even the balance of the worlds intact. That is not to say that all fairies are good however, as some, such as the Fairy Godfather, have been known to conspire with orks.
Fairies appear to live in the air and fly around frequently. They rely heavily on magic and delight in mischief. Fairies are mysterious to outsiders, who know little of their culture and history. Indeed, many of the other mortal races would happily deny the existence of this tiny race, as most believe fairies are imaginary creatures. They seem to have some relation to the Pixie race. The Fairies also seem to be a female-dominated race.
List of fairies
Edit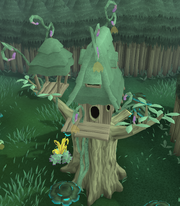 The fairies are involved with the following quests;