Extreme strength
Discuss

5
22,529pages
on this wiki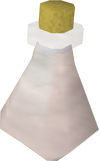 Extreme strength potions are made by players using the Herblore skill. They require a Herblore level of 89 to make. When a player drinks the potion, they will get a boost of approximately 3 + 15% of the player's Strength level, then rounded down. This makes for a maximum strength boost of 17 at level 99.
A Super strength potion (3-dose) and a clean dwarf weed are the ingredients required to create this potion. Making this potion will give 230 Herblore experience. The potion cannot be made with the assistance of others.
This potion, along with an Extreme attack, Extreme defence, Extreme ranging, and Extreme magic, can be used with a clean torstol at level 96 Herblore in order to make an Overload potion.
This potion cannot be used in dangerous PvP situations. Consequently, it cannot be used anywhere in the Wilderness, except for one or two spaces away from the Wilderness wall, King Black Dragon or Corporeal Beast. This is because these spots are not considered PvP areas. If a player travels to any other part of the Wilderness after drinking an extreme strength potion, the boost will be reduced to the power of a super strength
The New EOC update allows players to use Overloads, effectively enabling the use of extremes in the wilderness.
Production costs
Edit
The data in this table is based on the Grand Exchange prices of the potion's ingredients. It is accurate assuming all tradeable ingredients are bought off the Grand Exchange.
Material cost
Profit/loss
Profit/xp
 

9,364

 

-9,364

 

-40.71

*
* However, the untradeable potion can still be used.
This potion can be made into an Extreme strength flask by using at least six doses of it with a Potion flask. Players do not need a specific level to turn potions into flasks, but since all untradeable potions must be made by the player, the flasks actually have the same level requirement as the potion itself, unless of course, a stat boosting item such as Greenman's ale (m) is used to make the potion in the first place.
When first released, the Extreme and Overload potion(s) could be used in PvP situations; within 48 hours, this was changed so that they cannot be used in any PvP situation, dangerous or safe. However, as of 17 November 2009, Overload (along with every other untradeable potion) can be used in safe PvP minigames.
Unfinished potions

Coconut milk • Guam • Rogue's purse • Marrentill • Tarromin • Harralander • Ranarr • Toadflax • Spirit weed • Magic essence • Irit • Wergali • Avantoe • Kwuarm • Snapdragon • Cadantine • Lantadyme • Antipoison+ • Dwarf weed • Weapon poison+ • Torstol • Antipoison++ • Weapon poison++ • Fellstalk

Combat potions

Attack (mix) • Strength (mix) • Defence (mix) • Magic (mix) • Ranging (mix) • Combat (mix) • Super attack (mix) • Super strength (mix) • Magic essence (mix) • Super defence (mix) • Antifire (mix) • Super ranging (mix) • Super magic (mix) • Zamorak brew (mix) • Saradomin brew • Super antifire • Extreme attack • Extreme strength • Extreme defence • Extreme magic • Extreme ranging • Overload

Recovery potions

Stat restore (mix) • Energy (mix) • Summoning • Prayer (mix) • Super energy (mix) • Super restore (mix) • Sanfew serum • Adrenaline potion • Super prayer • Prayer renewal

Cures and antipoisons

Relicym's balm (mix) • Antipoison (mix) • Super antipoison (mix) • Yeti curse cure • Sanfew serum • Antipoison+ (mix) • Antipoison++

Skill potions

Agility (mix) • Fishing (mix) • Hunter (mix) • Fletching • Crafting

Unfinished Juju potions
Juju potions

Juju hunter potion • Scentless potion • Juju farming potion • Juju cooking potion • Juju fishing potion • Juju woodcutting potion • Juju mining potion • Saradomin's blessing • Guthix's gift • Zamorak's favour

Weapon poisons
Others

Bravery potion • Cadava potion • Goblin potion • Guthix balance (unf) • Guthix balance • Guthix rest • Potion • Mixture - step 1 • Mixture - step 2 • Shrink-me-quick • Super fishing explosive • Troll potion • 'voice of doom' potion • Olive oil • Sacred oil • Serum 207 • Serum 208 • Yeti curse cure

Tars

Guam • Marrentill • Tarromin • Harralander

Flasks

Agility • Antifire • Antipoison • Antipoison+ • Antipoison++ • Attack • Crafting • Defence • Energy • Extreme attack • Extreme defence • Extreme magic • Extreme ranging • Extreme strength • Fishing • Fletching • Guthix's gift • Guthix balance • Hunter • Juju cooking • Juju farming • Juju fishing • Juju hunter • Juju mining • Juju woodcutting • Magic essence • Magic • Overload • Prayer • Prayer renewal • Ranging • Recover special • Relicym's balm • Restore • Sanfew serum • Saradomin's blessing • Saradomin brew • Scentless potion • Serum 207 • Serum 208 • Summoning • Super antifire • Super antipoison • Super attack • Super defence • Super energy • Super magic • Super prayer • Super ranging • Super restore • Super strength • Weapon poison • Weapon poison+ • Weapon poison++ • Zamorak's favour • Zamorak brew

Dungeoneering potions

| | |
| --- | --- |
| Weak potions | Magic • Ranged • Melee • Defence • Stat restore • Cure • Rejuvenation • Weapon poison • Gatherer's • Artisan's • Naturalist's • Survivalist's |
| Normal potions | Magic • Ranged • Melee • Defence • Stat restore • Cure • Rejuvenation • Weapon poison • Gatherer's • Artisan's • Naturalist's • Survivalist's |
| Strong potions | Magic • Ranged • Melee • Defence • Stat restore • Cure • Rejuvenation • Weapon poison • Gatherer's • Artisan's • Naturalist's • Survivalist's |