Experiment cave
Discuss

5
22,463pages
on this wiki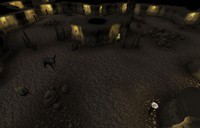 Click to view a larger version (opens on a new page).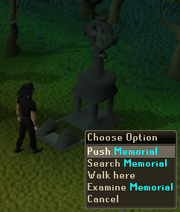 The experiments cave is a large, underground structure which consists of two larger chambers and small paths. The entrance to this cave is concealed under a tombstone south-east of Fenkenstrain's Castle. One must push the eastern-most memorial to enter. The cave can only be accessed during and after the Creature of Fenkenstrain quest. As the name suggests, many experiments inhabit this cave.
Creature of Fenkenstrain
Edit
During the Creature of Fenkenstrain quest, players had to kill a level-51 experiment in order to obtain a cavern key. Then, the player navigates through the cave, opens the locked door using the cavern key and climbs up the ladder to a mausoleum. The player must then dig at the three statues located there, in order to gain the arms, legs and torso of Fenkenstrain.
After the quest, players may re-access the cave, however players will only be able to kill level-25 experiments. Attempting to attack a level-51 experiment yields the following message: "You don't have the heart to kill this poor creature again."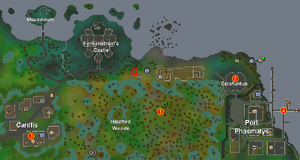 There are many ways to travel to this cave: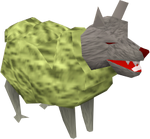 This is a very popular destination for players who wish to train in a combat skill, due to the large number of experiments that reside there. However, this cave is often populated and players may need to "world-hop" in order to find a suitable training spot. Players are advised to train at one of the two larger areas, as they contain the most respawns.
Various safespots exist, however they are made unnecessary due to the low attack and maximum hit of the experiments.
Music unlocked
Edit