Evolution of Combat
Discuss

87
22,529pages
on this wiki
The Evolution of Combat, also called EOC, is a complete rework of how RuneScape combat works. This update is set up as a beta for users who want to test it out early, signups for which were open from 1 June 2012 to 19 June 2012. The actual update is estimated to take place in September (which can be available to all servers, including Free-To-Play), but this is subject to changes.
Entering the Beta
The beta servers can be accessed here. This is browser-based play only (no downloadable client so far). The login screen is as normal, and will take players into the lobby. If players wish to play with their main game character, they should click the "Import" button (pictured above) at the bottom left of the screen. If they do not click on this link, they will start the beta with a basic character.
Changes to hitsplats
The hitsplats for auto-attack damage do not have a red background - they are merely static numbers without a background (not even including the hit type-melee, ranged or magic). Hit splats for abilities have a red background.
Weaknesses
The player's weakness is either melee, ranged or magic and changes according to the equipment they are wearing. If they are wearing nothing, their weakness is shown as "None". NPC weaknesses are more varied and include stab, slash or crush attacks, arrows, bolts or thrown ammunition, and Air, Water, Earth or Fire spells.
New Effects
Some effects include damage over time (DoT) and temporary damage boosts. [1] The damage over time effects include burn and bleed, similar to the current poison effect.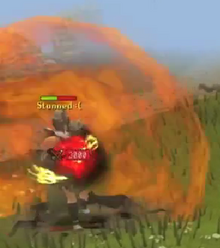 New Abilities
Confirmed Updates
General changes to equipment

All weapons of the same equipment tier (for example, all rune weapons) have had their stats adjusted in order to have roughly the same damage per second (DPS) value. Slower weapons such as rune spears and rune battleaxes are as effective in combat as faster weapons such as rune scimitars and rune daggers.[2] Two-handed weapons have a 50% higher DPS than one-handed weapons of the same tier, to compensate for the lack of an off-hand item.[3]
Many, if not all, pieces of armour boost lifepoints, in a similar manner as torva, pernix, and virtus armours. However, the boosts are much more substantial; players who equip armour sets that are appropriate for their levels receive as much as 90% of their total lifepoint pool from their armour - more if wielding a shield.[4] Before release of the beta, it was expected that a player with maxed combat stats and the best gear would have about 15,000 life points, most of it coming from their armour.[5] However, thus far no equipment has been released that gives this high of a bonus to lifepoints.
The ability to simultaneously wield two one-handed weapons (called "dual-wielding") was released.[6] Special off-hand versions of many existing weapons have been created; these are separate from existing "main-hand" weapons and will require separate purchase or creation.[7] It is possible to wield two one-handed weapons of different styles (such as a one-handed sword and a one-handed crossbow)[6]; however, it is only possible to use abilities of the style of weapon that is equipped in the main hand.[8] Dual-wielded weapons have roughly the same DPS rating as two-handed weapons of the same tiers.[9]
All existing magical staves have been changed to be two-handed weapons, which sacrifice speed for extra damage. New wands have been released that act as one-handed staves. Additionally, off-hand magical equipment called orbs have been released that allow players to dual-wield Magic spells.[8]
All melee weapons are able to train Attack, Strength, and Defence. Rangers and Mages may choose to gain purely Defence experience.[10]
Armour equipped by players no longer has specific weaknesses to stab, slash, or crush attacks that are made by other players. Monsters continue to have weaknesses to specific attack types. Additionally, some monsters have weaknesses to specific Magic spell elements, such as water spells.[2]
While it is possible to switch armour types during combat, doing so is not recommended as it will incur a significant cooldown penalty to all abilities.[5]
Changes to specific items
Magic blastboxes and celestial surgeboxes provide unlimited air runes in the off-hand slot, instead of storing runes for combat spells. As both boxes are Dungeoneering-only items, they have been removed from the rest of the game, and any players who purchased them from the rewards trader had their tokens refunded. The runes are refunded upon logging into beta for the first time.[10]
The Inspiration aura affects the adrenaline bar instead of the special attack bar.[10]
As they have lost their special attacks, all four godswords are functionally equivalent. [10] However, their stats were increased to compensate. [10]
Barrows equipment and Void Knight equipment still retain their set effects. [10] However, they only trigger on auto-attacks, not when abilities are used. [10]
Enhanced excalibur has lost special attack. The weapon itself has had its combat stats improved[10] to match those of the abyssal whip[8]. It is now also an offhand-only weapon.
Two-handed crossbows (such as the existing Karil's crossbow) have been added. They are the Ranged equivalents of two-handed swords. Like many existing crossbows, they are created using the Smithing and Fletching skills.[10]
The ring of kinship's class bonuses while Dungeoneering has been adjusted to fit with the combat update. [10]
Much more Ranged and Magic armour has been released.[10] Among others, rangers have received cockroach armour, and mages will have received spider-silk robes and bat wing robes.[4]
Longbows will receive defensive bonuses and lifepoint boosts. .[10]
The abyssal vine whip's stats have received a boost.[2]
Untradable potions such as extreme potions and overloads are usable in the Wilderness.[2]
The ring of vigour allows players to retain 5% of the adrenaline bar after using an ultimate ability, instead of the bar draining to 0%.[2]
The Bandos armour set has been expanded to include a helm, a shield, and gloves. Armadyl armour has been upgraded with gloves and a buckler.[4]
Some equipment has had their skill requirements adjusted for balancing purposes. For example, rune equipment requires level 50 Attack to wield the weapons and level 50 Defence to wear the armour.[4]
Crystal Equipment retains the same bonuses independent of degradation status.
Changes to combat skills
Cosmetic changes
Player character models have been updated with more detailed in-game faces, hands (including fingers and thumbs), and more points of articulation among the spine.[2]
The ability to sheath weapons and shields has been released.[10] Players automatically draw their weapons and shields when engaging in combat.[8]
Attack animations with all styles has been updated.[8]
Several armours, such as Bandos and Void Knight Equipment , have received new visual updates.
Facial expressions have been added.
Attack options, Spellbook and more have merged together.
Idle player animations have been updated.
Expected Updates
This is a list of expected updates as stated in "Og Blog: Evolution of Combat."[13]
Refocus combat around player skill - Combat will be more oriented on player skill, rather than navigating interfaces.
Encourage variety in combat equipment - We want you to be thinking carefully about the equipment you choose for any given situation, tweaking and making alterations according to your enemy's strengths and weaknesses. The problem is, at the moment, there aren't many reasons to change from your favourite weapons or armour. We'd like to give you those reasons.
Make it fun! - There's room in combat for situations that require a greater deal of attention and skill to overcome, hopefully making it more fun. In these situations, you'll be rewarded for your efforts with more XP. In-game combat - particularly training on standard enemies - currently involves clicking on a creature and waiting. We'll do a whole lot more to make these situations challenging, rewarding and - ultimately - more fun.
Make it easier to access - Several combat options (special attacks, combat styles, spellbooks) are tucked away, hard to access, or on various different interfaces, so we're planning to bring all those options together.
Give rangers and mages a fighting chance – The combat triangle can be less of a triangle and more of a pancake – flat and a little out of shape - with melee dominant in training and PvP situations. Let's put rangers and mages firmly back on that triangle.
Fill the gaps in existing equipment tiers – We've got an opportunity with the Evolution of Combat to plug holes in the tiers of combat equipment. Magic 'armour' is rare, and generally caters for a small level bracket, while melee and ranger sets are missing gloves, boots, etc.
Encourage challenging fights - We'd like the most challenging, rewarding and fun creatures to also be the most efficient creatures to fight. At the moment, it can seem more efficient to train on creatures that deal little damage and go down without a fight.
Fix the relationship between Defence, life points and damage outputs – Your ability to heal damage, through food or similar mechanics, should be comparable to how much damage you receive. That's not quite true at the moment, and we'd like to address that.
Allow players' combat levels to truly represent their ability – The combat level calculator is complicated and encourages players to not train certain skills in an attempt to create a false impression of their damage potential (pures).
Simplify the code and balancing – Simplifiying the code will allow Jagex to make high-level (85+) equipment faster and easier.
Be brave, but be traditional where possible - We are a game with a proud heritage and a player base with clear expectations of the game they want to play. We don't want to make a game that we can't even recognise anymore.
Additional on RS forums; Jagex Talks Combat - More Info
In the second Og Blog, more information was mentioned. This blog was focused on the objetives of player based skill, fun, equipment rework and more, [Blog: Skill, Variety and Fun]
Gallery
References