Evil Chicken (Recipe for Disaster)
Discuss

5
22,518pages
on this wiki
This article is about the quest monster. For retired random event, see
Evil Chicken
.
Evil Chicken
Release date
15 March 2006 (Update)
Members?
Yes
Combat level
110
XP per kill
Unknown edit
Always drops
Bones, Raw chicken, Feathers
Examine text
A fowl beast.

Combat stats
LP
Max hit
1200/1420
210/?
Attack
Defence
Ranged
Magic
Unknown
Unknown
Unknown
Unknown
Other
Immune to Poison?
Immune to Stun?
No
No
Attack Speed

Speed 6 (Interval: 2.4 seconds)

Aggressive?
Poisonous?
Yes
No
Attack style
Weakness
Magic

Nothing

[view template]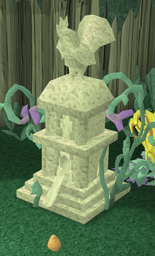 The Evil Chicken is a quest monster encountered during the Freeing Sir Amik Varze sub-quest of Recipe for Disaster. He resides in his lair, found in Zanaris. Players must defeat him in order to collect the Evil Chicken's egg, necessary to make crème brûlée supreme, the dish which will liberate Sir Amik Varze from the effects of the Culinaromancer's spell.
In order to gain access to his lair, players must use a raw chicken on the Chicken Shrine, found in the Northern part of Zanaris, next to the fairy ring entrance from the tool shed. Before entering the lair, players should equip an anti-dragon shield or use an antifire potion, as the lair is populated by Black Dragons.
Once inside the lair, players will find the Evil Chicken at his nest in the Northern section, in an area safe from dragons. The chicken's combat level depends on the player's combat level, and will attack using only magic. Using Protect from Magic or Deflect Magic will negate half of any damage, leading to an easier fight. The Evil Chicken can only be killed once during the quest, and will not respawn once defeated.
She can be fought again in the Dominion Tower after the quest, provided that the player meets the tower's requirements.
In the Dominion Tower, the Evil Chicken is referred to as a female, contradictory to the past in which it had been referred to as a male. In addition to this the chicken looks like a rooster, yet it lays eggs.
Bosses

Class A

Nomad • Pest Queen • Decaying avatar • Eruni • Ayuni • Leeuni • Dagannoth Mother (Blood Runs Deep) • Zenevivia

Class B

The Untouchable • Damis • Fareed • Kamil • Dessous • The Everlasting • The Illusive • Dagannoth sentinel • Karamel • Gelatinnoth Mother • Nezikchened

Class C

Balance Elemental • Jungle demon • Arrav • Ice demon • The Inadequacy • A Doubt • Giant Roc

Class D

Arrg • Barrelchest • Chronozon • Evil Chicken • Flambeed • Agrith-Na-Na • Dessourt • Giant scarab

Class E

Bouncer • Koschei the deathless • Arzinian Avatar • Black Knight Titan • General Khazard • Black Knight guardian

Class F

Dad • Dramen Tree Spirit • Agrith Naar • Dagannoth mother (Horror from the Deep) • TokTz-Ket-Dill • Black golem • Grey golem • White golem

Class G

Treus Dayth • Elvarg • Culinaromancer • Tumeken's shadow • The Kendal • The Draugen

Class H

Tarn Razorlor • Sigmund • Melzar the Mad • Count Draynor • Delrith • Solus Dellagar

Miscellaneous

Sunfreet
Power-ups

| | |
| --- | --- |
| Weapons | |
| Bombs | |
| Dom potions | Dom super restore • Dom saradomin brew • Dom super antipoison • Dom super prayer |
| Other | |

Gloves
Mines
Miscellaneous

Xp book • A journal page • Dominion journal • Dreadnip • Dominion marker • Dominion medallion • Super dominion medallion