Equipable knife glitch
Discuss

0
22,530pages
on this wiki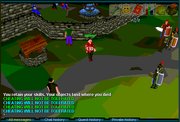 The equipable knife bug was a bug that appeared in RuneScape Classic in 2002 that allowed players to equip multiple normal knives, which were not intended to be wieldable, and have a high attack and strength bonus. If a player walks in RuneScape Classic and attempts to drop an item, it will not drop until the player stops walking. The glitch took advantage of this, players would put a wieldable weapon in their first inventory slot and fill the rest with knives. Next, they would walk somewhere and click to drop the weapon. Before they stopped moving, they right clicked the weapon again. When the item dropped, its right click menu would still be up over a space with a knife in it. If the wield option was clicked, a knife was wielded with the same stats of the weapon the player dropped. As many as 29 knives could be wielded at once, allowing for incredibly high hits if the bug was abused properly.
To punish players, Jagex set up a script that did the following:
Players with knives equipped while in the Wilderness died instantly upon logging on
Players with knives equipped while outside the Wilderness simply had them disappear
Players with knives merely in their inventory were not affected at all
When Jagex took manual action, players who player killed with the knives were permanently banned for bug abuse, while players who trained with them were temporarily banned.