An enriched snapdragon seed is made from a regular snapdragon seed during the While Guthix Sleeps quest. Light passing through a pink dyed lantern lens is cast upon the regular seed making it into the enriched one. Upon harvesting later in the quest, it grants one enriched snapdragon herb. It is needed to make a super truth serum (requiring 65 Herblore), a truth serum mixed with the enriched snapdragon for the quest.
A nearby gardener will not watch over your growing enriched snapdragon.
Note: Even if you don't have 65 farming while planting this seed, you can still plant it due to the fact you boosted your levels to start the quest.
Stage
Description
Image
Enriched snapdragon plant
1
The seed has only just been planted.
2
The herb is fully grown and ready to harvest.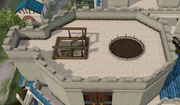 Allotment
Flower
Herb
Hop
Bush
Tree
Fruit tree
Special
Herblore Habitat
Quest
Dungeoneering
Gielinor Games (discontinued)
NPCs
Enemies
Items
Scenery
Locations
Music
Miscellaneous
Ad blocker interference detected!
Wikia is a free-to-use site that makes money from advertising. We have a modified experience for viewers using ad blockers

Wikia is not accessible if you've made further modifications. Remove the custom ad blocker rule(s) and the page will load as expected.