Empty pot
Discuss

5
22,529pages
on this wiki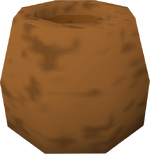 An Empty pot is an item that can be used to hold a variety of liquids or powdery substances, such as flour. It is one of the most common items in all of RuneScape, so players will often simply drop them and buy new ones when needed, as they are very inexpensive.
Dropping monsters
| Monster | Combat level | Quantity | Rarity |
| --- | --- | --- | --- |
| Imp | 2, 7 | 1 | |
Spawn locations
Players can find them on various counters and tables through RuneScape, including the ground-floor kitchen in Lumbridge Castle. They also respawn on the west edge of the Lumbridge Swamp, on a table in Mill Lane Mill, Keldagrim and the floor of the helmet shop in the Barbarian Village.
Most general stores also have pots available for sale for 1 coin. In fact, an empty pot is the icon representing a general store on the RuneScape world map.
Players can also make a pot from soft clay with only level 1 Crafting, making it one of the easiest Crafting items to make, although it can break whilst in the pottery oven.
Pots are used in a few quests, though they cannot really be considered quest items. Pots can also be found in Port Phasmatys at the general store for 1 coin each. There is a total amount of 300 pots, along with 300 buckets for 2 coins, though the only downside to this is that they cannot be bought noted so you must run back and forth between the bank and the general store, but even so, this can be found helpful for those players who need 1000+ pots and buckets for Ectofuntus prayer training.
Trivia
In RuneScape Classic and early years of RuneScape 2, Empty pots were simply called "Pot". This would result in the left-click option being "Take Pot", however this was fixed.
General stores used to show a pot of flour on the mini-map as their icon, but this was later changed because players complained that the general stores only sold empty pots, not pots of flour.
Pots have a 100 buy-sell limit every four hours on the Grand Exchange.
See also
Items
Fish Rewards

Raw tuna • Raw lobster • Raw swordfish • Raw shark • Raw sea turtle • Raw manta ray • Raw tiger shark

Junk Rewards

Buttons • Broken staff • Broken arrow • Broken armour • Smashed glass • Old boot • Empty pot

Rare Rewards

Shimmering shell • Glistening shell • Shark tooth • Shark's tooth necklace