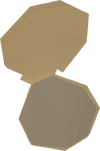 An empty oyster is an oyster which has been opened and does not contain a pearl.
It can be caught with a big fishing net at the Fishing site just east-south-east of Catherby or it is a common drop from a Rock Crab which are found in Rellekka. They were once tradeable on the Grand Exchange, but were taken off the Grand Exchange in a hidden update.
Dropping monsters
Edit
For an exhaustive list of all known sources for this item, see here.
| Source | Combat level | Quantity | Rarity |
| --- | --- | --- | --- |
| Rock Crab | 71 | 1–3 | Common |
Disassembly
Edit