Emergent gameplay
Discuss

0
22,503pages
on this wiki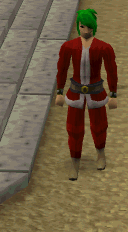 Emergent Gameplay is a broad term used by Jagex that refers to in-game activities developed by players. Emergent gameplay revolves around the use of in-game content in ways that were not specifically intended by Jagex when they created the content. [1] [2]
A wide range of activities are included within the scope of emergent gameplay. Some of the more prominent examples of this include clans, scavenger hunts, hide-and-seek games, and role-playing games. Jagex encourages emergent gameplay through a variety of community events and in-game updates. The most explicit example of this are Faruq's Tools for Games, most of which were developed by Jagex to encourage players to create new methods of gameplay.
Emergent games are normally hosted inside a POH, The Grand Exchange, the square in Varrock and other popular places. They are normally played in clans.
References
Edit