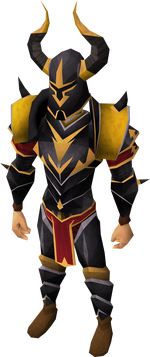 Elite black armour is a set of equipment worn by the elite members of the Kinshra. Parts of the set are dropped by the Elite Black Knights that are encountered during the quest While Guthix Sleeps. Level 40 Defence is required to wear this armour, which is the lowest-level melee Power armour set.
Elite black armour can be used in place of normal black armour when attacking the tormented wraith.
The quest While Guthix Sleeps does not need to be completed or even started to wear this armour. Buying the armour set costs more than the total cost of each individual part, so most players buy each piece separately. When the Elite Black Armour set first came out, the Grand Exchange price valued this well over 1,000,000 GP considering that nobody had seen this new armour before (Also considering nobody was doing the quest at the time.) and assumed this was a very rare armour. However, as the months went by, many players did the quest to obtain the armour set, and no longer demanded the set, thus making the price drop dramatically. 
Melee armour
Edit

Item
Attribute
Style bonus
Price
Elite black full helm
107
0
0
9
-
-

27,477

Elite black platebody
123
0
0
14
-
-

45,552

Elite black platelegs
117
0
0
12
-
-

42,801

Totals
347
0
0
35
-
-

115,830
Grand Exchange sets
Edit
Elite black armour set
Edit

Item
Attribute
Style bonus
Price
Elite black full helm
125
0
0
9
-
-

27,477

Elite black platebody
144
0
0
14
-
-

45,552

Elite black platelegs
138
0
0
12
-
-

42,801

Totals
347
0
0
35
-
-

115,830
NPCs
Enemies
Items
Scenery
Locations
Music
Miscellaneous