Elemental creatures inhabit a power-producing device during the Nomad's Requiem quest. They must be lured out of the device with elemental fuel and destroyed by dropping fuel to lead them to the waterfall. They cannot be fought.
It looks similar to a Killerwatt, only without electricity surrounding it and with different colouring (Killerwatts are purple).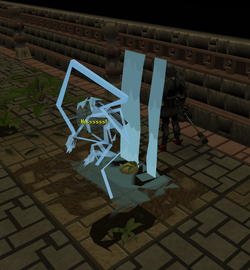 Elementals
Seasons
Warriors
Wizards
Other
Elemental creature
Fiends & Demons
Ad blocker interference detected!
Wikia is a free-to-use site that makes money from advertising. We have a modified experience for viewers using ad blockers

Wikia is not accessible if you've made further modifications. Remove the custom ad blocker rule(s) and the page will load as expected.