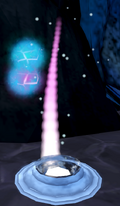 An elder wisp is a wisp harvested in the Divination skill. Upon being harvested, it will transform into an elder spring from which elder memories and elder energy may be gathered. Completion of the quest Fate of the Gods is required to access these wisps.
Each harvest of an elder wisp yields 8.5 divination experience, 17 if an enriched elder memory is harvested.
The colour scheme appears to be based on the two gods who came from Freneskae, Seren (green-blue) and Zaros (purple).
Getting there
Edit
Using any of the following to get to the World Gate, and then teleporting to the Elder Hall on Freneskae.
Ad blocker interference detected!
Wikia is a free-to-use site that makes money from advertising. We have a modified experience for viewers using ad blockers

Wikia is not accessible if you've made further modifications. Remove the custom ad blocker rule(s) and the page will load as expected.