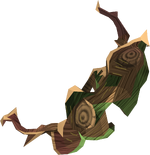 An Elder shieldbow (u) is cut from Elder logs at 95 Fletching, granting 116.4 experience. An unstrung elder shieldbow can be strung using a bowstring, granting an additional 116.4 experience thus making an elder shieldbow.
Elder shieldbow (u)
-
116.4 XP
-
5,085
Requirements
Fletching level
95
Members only
Yes
Materials
Item
Quantity
Price
Total
Elder logs
1
5,530
5,530
Disassembly
Edit
Shortbow
Shieldbow
Other
 Unstrung comp bow
Crossbow
Stocks
Limbs
Ad blocker interference detected!
Wikia is a free-to-use site that makes money from advertising. We have a modified experience for viewers using ad blockers

Wikia is not accessible if you've made further modifications. Remove the custom ad blocker rule(s) and the page will load as expected.