Elder logs
Discuss

2
27,997pages on
this wiki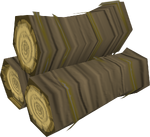 Elder logs are obtainable from Elder trees by players with level 90+ Woodcutting. 325 experience is given per log cut.
With 90 Firemaking a player may burn the logs for 435 experience. Adding them to a bonfire with Flame Gloves and a Ring of Fire yields 480.5 experience. When lit, they burn for approximately 6 minutes. Using these logs on a bonfire will provide a 5% boost to a player's maximum health for 66 minutes.
Players may also utilise the logs through the Fletching skill. The abilities to make Elder shortbows and Elder shieldbows are unlocked at level 90 and 95 Fletching, respectively. Making an Elder shortbow (u) from the logs will grant 101.2 experience for cutting the bow and 101.2 for stringing it for a total of 202.4 experience. Fletching an Elder shieldbow (u) will provide 116.4 experience, as will stringing it, for a total of 232.8 experience.