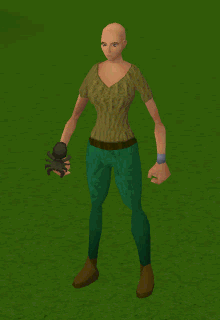 Eek is a pet spider players get from the 2009 Hallowe'en event Web of Shadows. After the event, members can place Eek in either a Pet house or Toy box in their Player-owned house.
Unlike most pets, Eek does not eat, cannot be fed anything, and does not follow you. Instead she is wielded in the weapons slot (Eek is technically a weapon in that respect).
During the 2009 Halloween event, Eek is given to the player by the Spider Herald, after being instructed by the Spider Queen to fill the Grim Reaper's house with webs so the Spider will move out of Grim's bath. The player must hold Eek and travel through the house, covering various pieces of furniture in spider webs. After the player finishes spinning sixty-four webs and completes the event, the Queen allows Eek to stay with the player, at Eek's request. If you dismiss Eek, you can get a replacement in Draynor Village from Diango.
Players have the right-click option of Talk-to, in which a random conversation takes place between the player and Eek, and Play-with, in which the player performs an emote with Eek spinning a spider web and dropping down.
Combat Stats

| Class | Slot |
| --- | --- |
| Melee | |

Weapons
Main
Off
Damage
-
-
Accuracy
-
-
Type
Crush
-
Attributes
Armour rating

0

Life bonus

+0

Prayer bonus

0

Critical bonuses

0%

0%

0%

Compare item

A player holding eek

[view] • [talk]
There is a reference to Spider-Man when Eek talks about being bitten by a magically radiated man and becoming "Man-Spider."
As stated in a guaranteed content poll for the reward for Halloween 2010, Eek's best friend is a bat called Squeek.
There was extra dialogue in the 2011 Halloween event if the player brought Eek along.
If you have Eek in your inventory when you pick up the spider in Carnillean Rising, it says: Eek is delighted to have a new friend.
Easter

Easter egg • Bunny ears • Rubber chicken • Easter ring • Chicken set • Chocatrice cape • Easter carrot • Squirrel ears • Sunbeam crown • Icicle crown • Egg on face mask • Chocolate egg on face mask • Eggsterminator

Hallowe'en

Pumpkin • Halloween masks • Scythe • Zombie head • Jack lantern mask • Skeleton set • Grim reaper hood • Warlock / Witch costume • Web cloak • Eek • Bone brooch • Deathcon lanyard • Deathcon t-shirt • Hourglass • Sock mask • Buskin mask • Hallowed robes • Unhallowed robes • Ectoplasmator

Christmas

Christmas cracker • Partyhats • Santa hat • Yo-yo • Hats and scarves • Marionettes • Wintumber tree • Reindeer hat • Snow globe • Santa costume • Ice amulet • Ghost costume • Candy cane • Salty claws hat • Heimland games souvenir • Christmas wand • Sparkles • Santa beard

Thanksgiving
RuneFest

Flagstaff of festivities • Runefest 2011 hood • Golden scythe

Commemorative

Golden cracker and (hammer) • 200m glasses • 10th anniversary cake and candles

Cryptic Clue Fest

Magnifying glass • Investigator's outfit • Rock fragment • Avalani's robes • Mysterious book • Diamond sceptre • Diamond crown

Other

Lily of the valley • Oktoberfest pretzel • Carnival headdress • Skull mask
Summoning

| | |
| --- | --- |
| Dogs | Bulldog • Dalmatian • Greyhound • Labrador • Sheepdog • Terrier |
| Birds | Penguin • Raven • Saradomin owl • Guthix raptor • Zamorak hawk • Ex-ex-parrot • Phoenix eggling • Vulture |
| Slayer | Creeping hand • Minitrice • Baby basilisk • Cresbot • Baby kurask • Baby aquanite • Abyssal minion • Freezy • TzRek-Jad |
| Hunter | |
| Quest | |
| Others | |

Cats

Cat • Wily cat • Hellcat • Purple cat • Clockwork cat

Fire creatures

Warming Flame • Twisted Firestarter • Searing Flame • Glowing Ember

Holiday
Others
Solomon's General Store
Squeal of Fortune