Lava titan
Level
83
Duration (

min

)
61
Points cost
9
Race
Titan
Abilities

Chance of inflicting 50 extra damage with every attack

Firemaking boost (10) - invisible

Mining boost (10) - invisible

Able to teleport to the Lava Maze

Special moves
Ebon Thunder
Combat level
150
Examine text
Made of lava.

Combat stats
Life Points
Max hit
4055
140 (190 with 50 extra damage ability)
Attack
Defence
Ranged
Magic
65
65
65
65
Immune to poison?
Yes
Attack Style
Strength
[view] • [talk]

Lava titans
are level 83
Summoning familiars
, introduced with the "Summoning 2" update on
31 March
2008
. They are part of the
Titan
group of familiars. Lava titans provide a +10 boost to both
Mining
and
Firemaking
levels. These familiars are also capable of teleporting a player to the entrance of the
Lava Maze
in level 41
Wilderness
. On
March 15,
2011
, the Lava Titan's teleport option was given a warning message when teleporting on as mentioned in the
Patch Notes
.
Lava titans are useful for high-level mining. They provide a +10 Mining boost, which greatly speeds up mining. However, as it is invisible, it does NOT enable players to mine anything they cannot mine without any boost. The teleport to the Lava Maze is very close to the Hobgoblin Mine with its abundance of adamantite, mithril, and coal, not to mention the runite mine to the north. It is also the fastest way to access the lever to King Black Dragon's Lair for the 10% damage boost, as well as being the quickest way to the Muddy chest. Caution should be exercised when using the teleport, as it sends the player deep into the Wilderness where they will be unable to teleport away again. The titan's teleport feature can NOT be used on other players - people will sometimes use this to lure players into the wilderness.
This can also be a useful familiar when using a hand cannon as it also provides an invisible +10 firemaking boost, lowering the chance of the hand cannon exploding.
It has a chance of dealing an extra 50 damage with its attacks, which counts as a separate hit. It also has a unique attacking animation; a gold tailwind appears behind the Lava titan's club when it strikes an opponent, similar to the special attack of the Barrelchest anchor.
They are also commonly used to boost mining levels to make it easier to mine in the Living Rock Caverns.
Lava titan pouch
Edit
Lava titan pouch is made by using a Summoning pouch on a Summoning obelisk with 219 spirit shards, a blue charm and an obsidian charm in the inventory. Making the pouch earns 730.4 experience points. Using the pouch to summon a Lava titan gains 8.3 experience points, and costs 9 Summoning points.
Ebon thunder scroll
Edit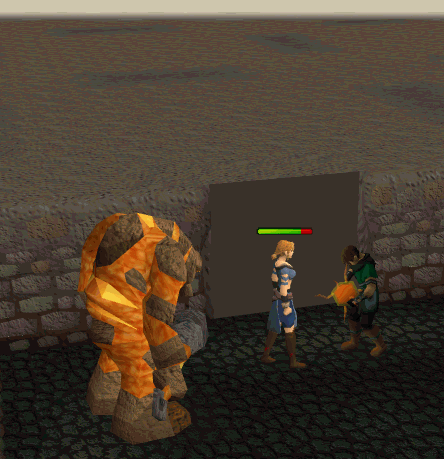 Ebon thunder scroll enables the use of the Ebon Thunder special move for a Lava titan. Using the pouch on a Summoning obelisk creates 10 scrolls.
Ebon Thunder
Edit
Ebon Thunder is the special move for the lava titan, which can drain an enemy's special attack energy by 10%.
In every one of the Lava titan's conversations, he tells a limerick.

Lava Titan after the Bloom Effects Update

The light parts of the Lava Titan's back somewhat resembles a face.
The back of the Lava Titan's club somewhat resembles Seren's symbol.
In an instance world it is not possible to use the Lava Titan's teleport, and in the Clan Citadels it is displayed as "Teleport to level 0 Wilderness".
The Ebon Thunder attack looks very much like Lucien's trademark spell.
Gold charm

Spirit wolf • Dreadfowl • Spirit spider • Thorny snail • Granite crab • Spirit mosquito • Bull ant • Spirit terrorbird • Barker toad • War tortoise • Arctic bear

Green charm

Desert wyrm • Compost mound • Beaver • Void ravager • Macaw • Spirit cockatrice • Spirit guthatrice • Spirit saratrice • Spirit zamatrice • Spirit pengatrice • Spirit coraxatrice • Spirit vulatrice • Magpie • Abyssal parasite • Ibis • Abyssal lurker • Bunyip • Fruit bat • Forge regent • Giant ent • Hydra • Unicorn stallion • Abyssal titan

Crimson charm

Spirit scorpion • Spirit Tz-Kih • Vampyre bat • Honey badger • Evil turnip • Pyrelord • Bloated leech • Smoke devil • Spirit cobra • Stranger plant • Ravenous locust • Phoenix • Granite lobster • Praying mantis • Talon beast • Spirit dagannoth • Swamp titan • Wolpertinger • Iron titan • Pack yak • Steel titan

Blue charm

Albino rat • Spirit kalphite • Giant chinchompa • Void shifter • Void spinner • Void torcher • Bronze minotaur • Iron minotaur • Spirit jelly • Steel minotaur • Spirit graahk • Spirit kyatt • Spirit larupia • Karamthulhu overlord • Mithril minotaur • Obsidian golem • Adamant minotaur • Fire titan • Ice titan • Moss titan • Lava titan • Rune minotaur • Geyser titan

Other

See also: Summoning • Beast of Burden • Forager • Charms • Summoning Obelisks • Summoning pets • Summoning pouches • Summoning scrolls • Wishing well • Dungeoneering familiars