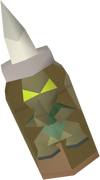 An Earth impling jar is the result of successfully catching an Earth impling, while also having an empty impling jar.
If a player catches an impling without an empty impling jar, they would automatically receive the loot instead.
This jar can be traded in singularly to Elnock Inquisitor for 3 empty impling jars.
Selling this jar on the Grand Exchange will make a profit of 679. Trading this jar to Elnock for 3 empty jars and selling the empty jars on the Grand Exchange will give a profit of 119.
You can trade two of this jar, along with three gourmet impling jars and one essence impling jar for a magic butterfly net.
If a player attempts to cast analyse or disassemble on this item, they will get the message You monster! You can't disassemble a living thing.
Drop sources
Edit
This list was created dynamically. For help, see the FAQ.
To force an update of this list, click here.
For an exhaustive list of all known sources for this item, see here.
The following items can be obtained by looting an Earth impling jar.
Please note that this does not include profits from selling the empty impling jar
Item
Quantity
Rarity
GE price
Profit (if buying then looting jars)
Earth talisman
1
Common
1,518
440
Fire talisman
1
Common
1,219
141
Earth tiara
1
Common
534
-544
Earth rune
32
Common
640
-438
Compost
6 

(noted)

Common
666
-412
Supercompost
2 

(noted)

Rare
1,114
36
Bucket of sand
4 

(noted)

Uncommon
212
-866
Mithril ore
1
Uncommon
411
-667
Mithril ore
3 

(noted)

Rare
1,233
155
Unicorn horn
1
Uncommon
2,240
1162
Steel bar
1
Common
587
-491
Wildblood seed
2
Uncommon
70
-1008
Harralander seed
2
Uncommon
44
-1034
Jangerberry seed
2
Common
14
-1064
Coal
6 

(noted)

Uncommon
780
-298
Gold ore
1
Common
201
-877
Ruby
1
Very rare
1,095
17
Emerald
2 

(noted)

Rare
2,968
1890
Uncut emerald
2 

(noted)

Rare
4,080
3002
Mithril pickaxe
1
Uncommon
3,246
2168
Ad blocker interference detected!
Wikia is a free-to-use site that makes money from advertising. We have a modified experience for viewers using ad blockers

Wikia is not accessible if you've made further modifications. Remove the custom ad blocker rule(s) and the page will load as expected.