The Dusty key is a key that unlocks a gate to the Taverley Dungeon, allowing passage into the deeper parts of dungeon from the Lesser demon area to the Blue dragon area.
The player can get the key from Velrak the explorer, who is imprisoned in the Black Knight headquarters in the southern part of the Taverley Dungeon. Kill the level 39 jailer to get a key to enter Velrak's cell and talk to him, but do not ask for a reward!
The dusty key can also be purchased for one coin on the second floor of the Legends' Guild, by players who have completed the Legends' Quest.
One dusty key spawns deep in Taverley Dungeon, near the Lava eel fishing spot south of the blue dragon area. Note that this key spawns in the deeper area of the dungeon, so players who need a key to access the deeper dungeon cannot obtain it here. Players with level 70 Agility, however, can obtain this key by using the agility shortcut near the entrance to the dungeon. The shortcut goes to the blue dragon area.
The dusty key is not tradeable, but multiple copies can be obtained. It can be placed on the Steel key ring.
The dusty key is needed by players without level 70 agility to complete the Scorpion Catcher quest. It is also needed for Heroes' quest if the player decides to fish the lava eel outside of the Wilderness.
While LootShare is active, the Jailer will not drop the jail key.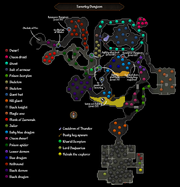 Store locations
Edit
This list was created dynamically. For help, see the FAQ.
To force an update of this list, click here.
Disassembly
Edit
Ad blocker interference detected!
Wikia is a free-to-use site that makes money from advertising. We have a modified experience for viewers using ad blockers

Wikia is not accessible if you've made further modifications. Remove the custom ad blocker rule(s) and the page will load as expected.