A
Strength
level is sometimes needed to force the bar on a barred door or push a barrel in a puzzle room. Some doors have a requirement of level 99 and higher strength to open. This is not a glitch; by drinking potions you may obtain the level required to open the door. However, doors with requirement of level 100 or more are not strictly members only, as they have been encountered in free to play worlds when soloing dungeons. As the player needs to use potions to get through this door, only members can pass a door with a level requirement of more than 100.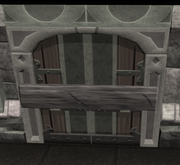 Warning: Turning on shared experience while opening the strength door will possibly give strength experience, in turn increasing strength level unintentionally.
Strength is also used to wield all mauls in Daemonheim at their prospective levels as well as provide the normal function of determining maximum hit.
Ad blocker interference detected!
Wikia is a free-to-use site that makes money from advertising. We have a modified experience for viewers using ad blockers

Wikia is not accessible if you've made further modifications. Remove the custom ad blocker rule(s) and the page will load as expected.