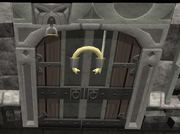 Agility in Daemonheim is used for opening certain doors and used in the Agility maze puzzle, the Lodestone power puzzle, broken plank bridge and grapple tightrope. Survivalist's potions increase Agility in the dungeons.
Agility is a lesser used skill while Dungeoneering, although a higher Agility level may help for running-based tasks.
Ad blocker interference detected!
Wikia is a free-to-use site that makes money from advertising. We have a modified experience for viewers using ad blockers

Wikia is not accessible if you've made further modifications. Remove the custom ad blocker rule(s) and the page will load as expected.