Dungeon
Discuss

4
22,529pages
on this wiki
This article is about the room that members can build in their house. For the underground caves found around Gielinor, see
Dungeons
.
For the skill that involves randomly-generated dungeons, see
Dungeoneering
.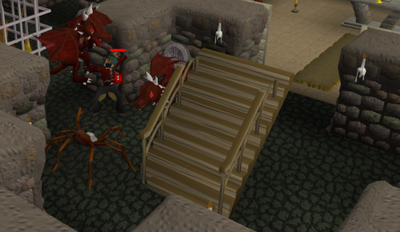 The Dungeon is a room or set of rooms that can be built in the basement of a player-owned house. It can be built at level 70 Construction. The dungeon room, unlike other rooms, can come in 3 different styles, each with their own hotspots.
Corridor
Junction
Stairs Room
Each part of a dungeon that is built counts as a room against the total number of rooms a player can have. For example, building a stairs room, a junction, and two corridors counts as four rooms. Some players who wish to build an extensive dungeon often end up removing other rooms they had previously built.
It costs 7500gp to make Corridor, Junction and Stairs Rooms.
Types
Corridor
The corridor is straight passage that can have 2 doors (one at each end), 2 traps and a monster.
Often, multiple corridors are built either to confuse the player or lead them to the treasure room.
There are 7 hotspots available:
(2x) Door
(2x) Trap
Guard
Decoration
Lighting
Junction
The junction is basically a 4-way passage in your dungeon made up of two crossing corridors. It can have 2 doors, 2 traps and a monster along one of the "corridors" of the junction.
There are 7 hotspots available:
(2x) Door
(2x) Trap
Guard
Decoration
Lighting
Stairs Room
The stairs room is more of a standard square room shape (with 4 doorways). It can have 2 doors and 2 monsters. It can also have a stairs (going up) or rug.
There are 8 hotspots available:
Stair/Rug - (you do not have to build stairs)
(2x) Door
(2x) Guard
Decoration
Lighting
Furniture
Stair/Rug
Stairs can be used to connect to a Skill Hall, Quest Hall or a dungeon entrance in a Garden or Formal Garden above.
Item
Image
Level
Materials
Experience
Cost
Rug
File:Rug.gif
13
4 bolts of cloth
60
 

5,080

Oak staircase
File:Oak staircase.gif
27
10 Oak planks, 4 steel bars
680
 

8,614

Teak staircase
File:Teak staircase.gif]
48
10 Teak planks, 4 steel bars
980
 

11,094

Opulent rug
File:Opulent rug.gif
65
4 bolts of cloth, 1 gold leaf
360
 

138,173

Spiral staircase
File:Spiral staircase.gif
67
10 Teak planks, 7 limestone bricks
1040
 

9,225

Marble staircase
82
5 Mahogany planks, 5 marble blocks
3200
 

1,652,960

Marble spiral
File:Marble spiral.gif
97
10 Teak planks, 7 marble blocks
4400
 

2,305,932
Door
Players have to pick the lock (using Thieving) or force the lock (using Strength) to open it. There is a glitch where when you leave doors closed they will look open. If that happens AND then you open the doors by any means it will show 2 times close door. To revert this glitch just close the doors. Oak doors are easy to get through, steel plated a bit harder, and marble ones the hardest. Marbles will be rarely seen due to that it is about 1.3-1.4m in total, making it quite expensive.
Trap
Used as obstacles. There is a chance that when a person hits a trap they will not activate.
Guard
The guards will only attack players in PvP mode or Challenge mode. Otherwise, they will only be examinable. You will not get any combat or slayer experience by fighting the monsters.
Ladder
Ladder back up to Throne Room above (if present).
When challenge mode is turned on (using the lever in the Throne Room) then only the house owner can go up the ladder.
Decoration
Lighting
Gallery

Garden •

Parlour •

Kitchen •

Dining Room •

Workshop •
Bedroom •
Skill Hall •

Games room •

Combat Room •
Quest Hall •
Menagerie •

Study •
Costume room •

Chapel •

Portal Chamber •

Formal Garden •

Throne Room •
Oubliette •

Dungeon •
Dungeon pit •

Treasure Room