The druidic spell is a spell scroll that can cast Bloom on rotten logs in Mort Myre Swamp to grow Mort Myre Fungi. The spell is given to the player by Filliman Tarlock during the Nature Spirit quest and can be used only once, after which it turns into a used spell. However, after completing the quest, the player can cast Bloom using a Silver sickle(b).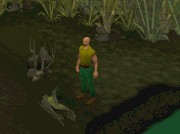 Disassembly
Edit
Ad blocker interference detected!
Wikia is a free-to-use site that makes money from advertising. We have a modified experience for viewers using ad blockers

Wikia is not accessible if you've made further modifications. Remove the custom ad blocker rule(s) and the page will load as expected.