This article is about the items that monsters drop when they die. For the function that allows players to remove items from their inventories, see
Drop
.
"Loot" redirects here. For the clan feature, see
LootShare
.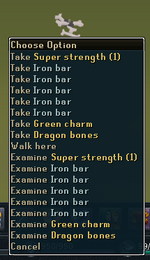 Drops
, also known as
Monster drops
or
Loot
, are the
items
monsters
leave for the killer when they
die
. Drops can be picked up by
players
. Drops often include
bones
,
coins
or
other items
. A lot of monsters have "100% drops", which is an item or items that are
always
dropped by that monster. 100% drops are more commonly bones or demonic ashes. Certain monsters have more than one type of 100% drops. A good example of monsters who have more than one type of 100% drops are
Metal dragons
, who drop bones and also, metal bars of the type of metal they're made of.
Large monsters (that take up more than one square) will always drop their drops in the south-westernmost square. This also applies to any Ranged ammunition that falls to the ground when Ranging those monsters.
The player who has done the most damage will see the drop before the other players. If a player has done half of the monster's hit points in damage, and the monster has had time to heal, someone else may end up doing the most damage.
A delay between the damage being done, and the creature eventually being killed, does not seem to affect the person who sees the drop first, as long as they did more than half of the total damage done.
After the release of PvP worlds, a randomised drop was given to the winner of a PvP battle. These drops included axes, pickaxes, platebodies, platelegs, potions, food, Corrupt dragon equipment, Corrupted Ancient Warriors' Equipment (m), and Brawling gloves (m). Since the reintroduction of pre-2007 Wilderness on 1 February 2011 PvP worlds no longer exist. Instead when a player dies in the Wilderness if skulled, anything that they were carrying, would be dropped and instantly visible to whoever the player was killed by. If the player is not skulled then the player will keep the three best items they have on them and the rest will be dropped and become visible to the person that killed the player. After a time the drops become visible to everyone else similar to a monster drop.
In very rare occasion, when right clicked the exact same moment as the monster dies, a screen may appear with the 100% drop only (and arrows if ranged is used) and not with the other drops. Then if right clicked on the same spot again, the drops are present. This shows that RuneScape first lets the monster drop its 100% drop, and then quickly calculates the other drops and then they appear too. To improve the chance for this to happen, log on to a world with low ping.
Currently, when right-clicking to pick up drops, the member items are in a biege color while non-member items are in a grey-blue color.
See also